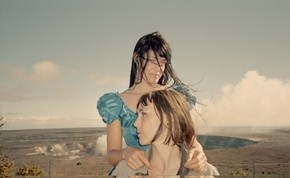 CocoRosie is the potently poetic musical project of American cross-disciplinary performance artists and sisters Sierra and Bianca Casady. The visionary duo approach their craft with a startling ability to tackle the most taboo of subjects with complete honesty and spiritual freedom. Creating songs that blend a myriad of styles and references ranging from folk and opera to hip-hop and reggae, the sisters often tranform the most painful of experiences into memorable, evocative pop anthems.
https://soundcloud.com/larealcocorosie/cocorosie-gravediggress
Taken as a whole, CocoRosie is an ongoing dialogue between the siblings. Each sister has her own persona and vocal delivery; Bianca delivers hard-hitting truths in a child-like voice while Sierra responds in pure open tones, playing a range of instruments including the harp, flute, piano, and guitar.