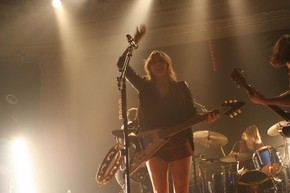 Grace Potter & The Nocturnals are a hard-touring, prolific act with no shortage of diverse material for their live show.   This is a band who has collaborated with Willie Nelson, Daryl Hall, Gov't Mule, Heart, Kenny Chesney and Dan Auerbach on one level or another.   After experiencing them in the 1,700 person capacity Newport Music Hall, I understood why they have had no trouble earning the respect of their peers.
Grace Potter & The Nocturnals
Newport Music Hall, Columbus, OH
January 30th, 2013
https://www.facebook.com/NewportMusicHall
The show was a gritty and honest, no-nonsense approach to rock and roll, driven by blues, country and soul. The night was chock full of slide, dueling and harmony guitars, soaring vocals and sing alongs, all tied together by a tasteful light show, and well balanced mix.
They took the stage around 9:30 PM and captivated the audience with an impressive energy and musicianship for almost two straight hours.   The set was well rounded, perfectly paced, and thoroughly entertaining.   Grace danced around the stage, sang her heart out, and displayed her talent on various instruments.   She plays her signature Gibson Flying V, a Gibson Hummingbird, a Hammond B3 organ, keyboards, tambourine, and even wielded mallets during a full band drum circle at Matt Burr's kit to end the night.   She is confident and clearly in her element the moment she steps onto the stage.
The set consisted of arena rockers like "The Lion The Beast The Beat", "The Divide" and "Stop The Bus" which showcased the magnitude of the band's sound.   The performance of tunes such as "Never Go Back", "Paris" and "Roulette" allowed their pop sensibilities and dance floor appeal to shine through.   Ballads like "Big White Gate", "Stars" and "Colors" shed light on the group's softer, more thoughtful side.   Perhaps the most pleasant surprise of the evening was an original and leisurely interpretation of Soundgarden's "Black Hole Sun" that they unleashed during their encore.
Grace grew up in an era when grunge was king, and she was born to parents whose generation is responsible for blessing the world with classic rock and folk music.   Grace seems to have one foot firmly planted in each of these time periods, which are in my opinion, two of the most exciting times for music.   She cites Kurt Cobain as a childhood idol, and her favorite artists include Fleetwood Mac, and Tom Petty and The Heartbreakers.
The Nocturnals are extremely versatile and could very well earn their rightful place in rock history if they keep up the hard work.   This band has a lot of personality, and they display a genuine chemistry that translates to their audiences and collaborators alike. They come across as old souls with a never-ending youthful exuberance.
After chatting with a couple of fans in the audience, it was clear to me that I am not the only one interested in seeing this band more than once.   Given their expansive repertoire and penchant for covering classics that span several decades, they should have no problem creating repeat customers across the country and quite possibly the globe.
Please check out the links below.
Grace Potter Columbus Playlist_01.30.13
"Gold Dust Woman" with Gov't Mule
Grace Potter and Joe Satriani – Cortez the Killer
"Timekeeper" on VH1's Big Evening Buzz
By Chris Engelman