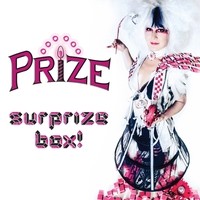 Had Sophia Santulli a.k.a. "Prize" lived 500 years ago, she would have been a treasured singer of the Medici court, performing while surrounded by a troupe of adoring castrati.
But ours is a far different age. Prize circa 2013 is a purveyor of electronic music, more specifically her self-described niche: "Electro Primadonna DIY Dance Music."
[youtube UVIHyiCUuvc]
Having sung alongside such acts as Third Eye Blind and having received a graduate degree from the San Francisco Conservatory, she has released her debut album, Surprize Box! Indeed that San Fran conservatory gave some serious training to a naturally superb voice.
Track 1, "The Pleasure Warriors," sounds the battle cry for good sensation: "We are, we are…the pleasure warriors!" It's like Dee Snider's "We're Not Gonna Take It," but slightly more sophisticated, and — dare I say — sexy. This track stirs up images of some dreamy European lover, perhaps an erotic gypsy.
With track 2, "Come Over," things seem less strident, and a little tense. The tension rises with the ensuing song, "Lady in Waiting." About 1:00 in, the vocals begin to climb. At 2:45 in, there is a vocal blastoff, as Prize attains some atmospheric frequency that no human should be able to reach.
Track 5, "Terror Machine," sounds like the new album from Napalm Death. However, Prize's "terror machine" operates on a less psychotic, more mellifluous level.
[youtube LsOpKzFQu-E]
Track 8, "Best U Ever Had," ranges octaves of both voice and emotion. About 2:45 there is a pretty engaging beat. Perhaps I notice this because Prize has temporarily stopped singing. Fear not, though; the voice returns.
On the Gaga-esque closing track, "Neo-Primadonna," there is some catchy synth experimentation. The ensuing guttural bass lines provide an interesting contrast to the by-now-well-established singing acrobatics.
Though it seems Prize digs the electro pop scene, one is compelled to wonder how her vox would grace other genres.
If she doesn't become a major act in her own right, some other major outfit will drag her onstage, and keep her there. Either way, a large audience will be found. Prize is simply too gifted, and ostentatious (check out her onstage regalia).
Let us not forget: the voice is an instrument. Prize wields hers with ample emotion and stunning virtuosity. To confirm this much, head directly to: http://prizemusic.bandcamp.com/
 
Ray Cavanaugh – owleyesgatsby@yahoo.com