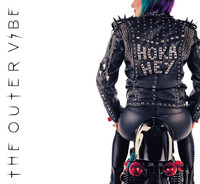 The Outer Vibe is a band that comes to us from Grand Rapids, Michigan. Reading from their Bio: This is a road tested band with rare business acumen that plays more than 100 shows a year, sharing stages along the way with the likes of REO Speedwagon, The Tubes, Mayday Parade, We The Kings, Local H, Electric Six and more. It's a band that boasts a walk-in wardrobe full of colorful stage attire and a trailer packed with duplicate sound gear that mirrors the equipment in its state-of-the-art studio/rehearsal space
Meet The Band: Nick Hosford   (Guitar), Sean Zee (Vocals), Lisa Kacos (Trumpet, Keys), Andrew Dornoff ( Bass) and Jeff Brems ( Drums).
FACEBOOK – http://www.facebook.com/theoutervibe
TWITTER – http://twitter.com/theoutervibe
In this overly saturated genera/market with a plethora of artists coming out of the woodwork, armed with nothing more than a PC, Microphone, a guitar and a crappy sounding CD — it's nice to know there are a few bands and artist out there that can still deliver what I call good, quality music. These new artists I speak of manage push their music out to the world and much of it do I dare say is substandard to say the least. So what do bands like Maroon 5, The Script, One Republic, and Train have that The Outer Vibe don't? Not much really if you ask me save the multi million dollar promotional machines and major record label support. The Outer Vibe break the mold with their impressive sound and their latest release "Hoka Hey" delivers music that has a deep seeded Pop-Rock roots. The players are red hot and the production value is as good as it gets for an Independent Artist. Vocals from Sean Zee are the most amazing part of the band. Musical overtones that will remind you of acts from Michael Mullins, The Script, One Republic, and Train. But honestly let me go on record and say there' isn't a band out there right now that can go toe to toe with The Outer Vibe. Right now after hearing their music and checking out a few of their video clips – they are the ultimate good time band out there right now. I don't say stuff like that often. All in all "Hoka Hey" is a world class CD that has much to offer the listener. Aapparently there are still a few bands and artist out there believe in delivering good music that doesn't sound like a commercial.
The Outer Vibe stand out from other Indie-Alt Artists in a good way within this very saturated singer/songwriter market. Their answer to boring . trivial music is to deliver something unique with a breath of fresh air, a nice easy flowing signature sound and a honest message to call their own. The strong suit of TOV is their passion and their ability to write you a powerful piece of music via solid musicianship and messages that speak to all the senses   One would be wise to keep a watchful eye on them over the years to come. At the end of the day The Outer Vibe is one of the hottest bands to slide across my desk this year. TOV has something special to offer music a fans all over the world — especially those that still believe in good time Rock n' Roll.
REVERBNATION — http://www.reverbnation.com/theoutervibe
LAST FM – http://www.last.fm/music/The+Outer+Vibe
Overall Rating — 9.5/10
Rory Richardson edited by Drew Blackwell