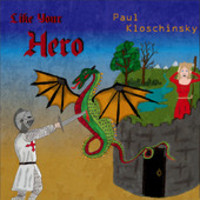 Multidimensional is a word epitomized by Vancouver resident Paul Kloschinsky. With a background in medicine and computer science, he has since ventured into poetry, photography, and, of course, musical composition — a pursuit which has garnered him several awards.
The new year sees release of a new album, Like Your Hero. On the opening track, "Ignition," a splendid guitar solo comes out of nowhere.
Track 2, the title track, starts with a rather fast tempo, which is steadily maintained. The vocals, quasi-spoken-word, are somewhat suggestive of Billy Idol.
Track 3, "Burns Like a Candle," features such lyrics as: "Can I reach on down / And touch that spot within?" Are we speaking figuratively here? If not, methinks it's time to grab a parental advisory sticker.
On track 4, "My Heart Still Belongs to Her," the intro is vaguely reminiscent of that monster of monster ballads: "Every Rose Has Its Thorn."
This 'Poison' similarity soon ends: Kloschinsky's voice is about five octaves deeper than the mouthpiece belonging to Bret Michaels (whatever his other accomplishments!).
Tracks 5 & 6 are songs of devotion. On paper, the lyrics may seem a bit overly dramatic. But they work just fine when sung by Kloschinsky's voice of grim amusement and resignation to all of life's torments.
Break out the harmonica for track 7, "Bad Times": "The way these things are goin' / I'm tempted to cough up another rib…And that's the way / Sad songs are what I play."
Though things clearly aren't blissful, there really isn't much despair, nor is there much frustration or anger. These "bad times" are all part of the speaker's identity.
On the ensuing song, "Fields of Green," the 'bad times' have subsided. These "fields of green" are a genuine sanctuary. Acoustic guitar is played percussively, and well at that.
Track 9, "Lovin' Don't Come Easy," is a very low pitch song, and well matches Mr. Kloschinsky's voice. It takes until 5:30 for a commanding guitar solo to come howlin' in, like nothing happened the previous 5+ minutes.
Track 10 is "The Bargain," the sort of 'bargain' your parents warned you against: "The devil made a deal with me." Being dragged into a flaming pit of damnation, the speaker (twisted fella that he is) seems to be enjoying it all, in a very offbeat way.
What genre does Kloschinsky belong to? The reviewer is uncertain.
Make your own conclusion at: https://itunes.apple.com/us/album/like-your-hero/id592762914
Ray Cavanaugh – owleyesgatsby@yahoo.com