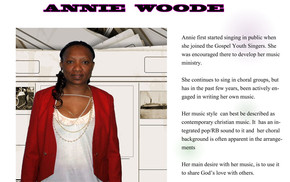 Expressing her faith through music, Annie Woode has produced two albums. The more recent effort, He's Always There, saw an Aug 2012 release. It can be purchased at: http://www.cdbaby.com/cd/anniewoode.
Skope recently tracked her down to ask a few questions…
You mentioned you don't have much instrumental training compared to your lifelong vocal experience. The instrumental component to the songs you provided sounds pretty apt — Did you have other musicians contribute, or have you recently enhanced your instrumental prowess?
For my first album I used my keyboard to produce the backing tracks. This did mean having to play all the tracks at the recording studio. To save studio time, for this second album, I used an instrumental package from jam studio to produce the backing tracks in advance. They were then just loaded on to the computer for me to use,
Where are you from? Where are you now based?
I was born in Sierra Leone in West Africa. I came to the UK to do my nurse training. I stayed in the UK afterwards. I think I've been here about 20 years, and at the moment I live in Luton.
Your first album, Greatest War, has a title that could be interpreted in different ways. Does it pertain to the war between good and evil (that's my guess!)?
Initially Greatest War was a song I composed after a remembrance day service. I remember thinking of all the people who had given or would give their lives for others to be free. It ended up with the thought that the greatest war had already been fought and won on Calvary and all others were just shadows of that war. I guess you could say it pertained to the war between good and evil. LOL. Because I always try to bring a message of hope, I decided to call the album Greatest War.
[youtube Mdhtz2ZRWjc]
I must say the intro to "Get Around" provided a jolt after listening to "Carry You". Were you intending to jolt the listener?
No I wasn't trying to jolt the listener with this intro. I never thought it did that till you mentioned it. I do have some listeners that like a more upbeat tempo, which was why I included "Get Around" there.
 
On "Signs of the Time," there are dual vocals. Did you have a singing sidekick, or is that all your voice, with the aid of some recording magic?
I do all my vocals and harmonies myself, as logistics make it difficult to get friends to do studio backing for me, and I can't afford to hire professionals. Luckily I am able to sing harmonies. In the studio each individual voice can be laid in a track one at a time and then they get combined on the computer. This has proved very useful for me, even when composing, as I can add different melodies and harmonies in advance to see what they sound like before I get to studio time. When performing I try to get my friends to do vocal backing for me if possible. If not, I use my backing tracks that have my backing vocals on them.
As a nurse, you probably see a fair amount of people in a painful predicament — Does that influence your music?
Yes I do see a lot of people in painful predicaments in nursing but I have never consciously thought that affected my music. When I am with them my main goal is to try to get them to feel better and that kind of fills up my space. I do write about painful times in my music but those come from personal experiences with family and friends rather than patients. For example, I wrote "Beginning Not End" (1st album) after my father died and I did "Best Moment" (2nd Album) after the death of one of our choir members.
 
Do you ever get singing requests from patients, or do you believe in a separation of music and medicine?
No, most of my patients don't know I sing. Well except when they hear me singing when I'm working. I sometimes forget myself and sing aloud. Despite the fact that I am a nurse I am rather shy and would not walk up to a patient and say "hey I sing". Probably because I think they will ask me to sing something and then not be impressed. Also, I have to be careful as I could get in trouble especially if I am singing about my faith, as this could be interpreted by law as being undue influence. I do think music helps revive spirits even when people are sick and would love to see it used more in these situations. Most of my singing at work tends to be at Christmas time when the hospital staff goes carol singing around the hospital. I know the patients always love it.
In your opinion, which current popular musician most aptly conveys a spiritual message?
It isn't something I've really thought about. I'm assuming you are not thinking about artists who are already performing in a spiritual genre. Sometimes I just hear a song and think to myself, that has a really good spiritual message. Often I don't know if it's intentional or not. I just tend to interpret and enjoy the song for myself in a spiritual way, whether or not that was the artist's intent. An example around at the moment is "The Power of Love" by Gabrielle Aplin.
To learn more about Ms. Woode, make the journey to: http://www.anniewoodesgospelmusic.com/home
By: Ray Cavanaugh – owleyesgatsby@yahoo.com