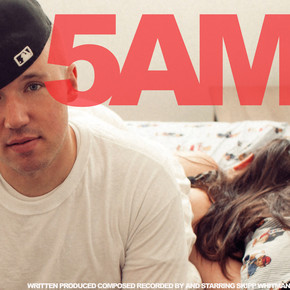 "5 AM" is Skipp's first full-length project using no samples, just original melodic inspiration & word instinct. Artists Louie Bello (the upgrade) and Sophia Lauren (wont change) collaborated with him. Most of the album was produced between the hours of 4 and 7 AM.
[youtube XgJHgqXJbKs]
In this new album, Skipp exposes his personal experiences and points of view on situations, and says words meant for people that were never said before. It's a biopic on the life he's led up til now. A reflection not only on the grind of getting by but on the dreams of getting ahead, on the cities, experiences, and people he's known, all fueled by a persistent love that keeps him up at night and makes him get up in the morning.