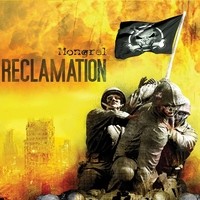 Female fronted in your face hard music is starting to make a splash lately, and no one has a better grip on the wheel than punk/metal band Mongrel with their latest release Reclamation. Right from the start with the first track Bored To Death, Jessica Sierra jumps right in your face, and doesn't back off for a second, all the way through to the final track No Gods No Masters. With crunchy blazing guitar riffs from Adam Savage that swirl around every growl, the music is just as in your face as Jess' lyrics. The beat driven styles of Dave Kazuciewicz on skins just thump with that edge of insanity that makes you not be able to sit still. Which has continued with the skins of current drummer Mike "Hogie" Hogan. Though the band has introduced a few new bassists since recording, Christopher "Rev" Fitzpatrick was the grit and soul when recording this masterpiece album. Most prevalent on the track Tarnished Halo, the bass line just drives the track right to the bone. Which has been also accomplished by former bassist Micah Maltais, and current long-term fill-in bassist Michael Mariano when playing live shows.
Hailed as one of New England's hardest working bands by many, Mongrel pulled out no stops with this collection of music. In searching for something to be critical about, you just find yourself rocking out to every track on Reclamation. Definitely being a band that most thrives in live settings, this collection of songs deliver a hard edge that just seems to never quit. The only critical thing that can be said is that you are left wanting to hear more when done. The production on the whole album is top notch and puts Mongrel on that tier of artist that is usually only found in signed big label talent.
Overall, if you are looking for hard rock, punk, metal that is in your face from start to finish, Reclamation is a very viable CD to go with. Each track screams out in it's own way that Mongrel is on the map and looking to take on whatever comes their way. Reclamation by Mongrel is by far one of the best albums to come out in 2012 and has already had it's share of acclaim from all over the music industry, that just keeps growing into the monster that represents what Mongrel is all about. This band is taking no prisoners with their latest release, and only looks to grow even more through the ceiling they have already crashed through.
Overall Rating: 5/5
Reclamation Available through iTunes here:
https://itunes.apple.com/us/album/reclamation/id560721196
Mongrel Links:
Website:       http://www.MongrelBand.com
Myspace:   http://www.myspace.com/Mongrel
Facebook:   http://www.facebook.com/MongrelOfficial
ReverbNation: http://www.reverbnation.com/MongrelBand
YouTube: http://www.youtube.com/adamMongrel
Twitter: http://www.twitter.com/MongrelBand
Sonicbids: http://www.sonicbids.com/Mongrel
By L. White