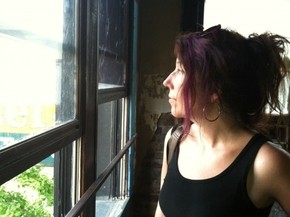 Hello Skope world, man it is good to be back. I usually do not get too personal but I became a father for the second time on Janaury 18th to a babyboy and I want the world to know how thrilled I am. On another note I want to say a prayer for the victims of the fire in the Brazil nightclub. I hope all bands can learn from this tragedy and use common sense in regards to the stage show. Now that I got that all out, lets talk about the fun, sexy, and talented Jill Cagney. Jill has been on my radar for many years now and she is back with her album, 'Nerves Of Steel.' This 6 song collection is in my opinion some of her best work yet. Join us as Jill speaks on her plans for 2013, her personality, rebuilding the Jersey Shore, and much more!
Stoli: Where are we talking from today and how is 2013 so far?
Jill Cagney: Hi Stoli!   I would like to be exotic and say we are talking from some Caribbean Island, but we are really talking from my house in Cranford NJ.   2013 has been excellent so far.   It started with Amanda Palmer and The Grand Theft Orchestra performing Prince's entire Purple Rain album in NYC at midnight on New Year's Eve. What an amazing artist she is.   The energy, writing, performance and commitment to being 100% present with her audience was inspiring to me. I was there with my husband and two great friends…one of which was my friend Christina Horn from the band Hudson K who is an amazing musician herself. The two of us woke up New Year Day ready to take on the world. There really is nothing like a live show and it made me want to spend this entire year going to shows and gigging.
Stoli: What are two things you proudly accomplished in 2012 and two things you want to accomplish in 2013?
Jill Cagney: 2012:
1 – The recording and release of "Nerves Of Steel" and raising over $1,200 at the release for a friend who is battling cancer.
2 – My tour. I left NJ alone in my little orange Scion with my guitar, merch, some clothes and a cooler and toured for two weeks as far as Knoxville, Memphis and Indianapolis. I mapped it out, booked it, stayed with some people I adored and even made some money. At the end I had the feeling that I could do anything.
2013:
1 – To jump off of the cliff I talk a couple of answers from now.
2- After jumping off this cliff to have a lots of material to pick and choose from for a recording in 2014.
Stoli: How did you get into music and at what age did it become a career and not a hobby?
Jill Cagney: In the back of my mind music has always been a career.   I don't think I ever really thought of it as a hobby but more as an integral part of my being that I did not always tend to the way I should.   Even while I have had a career in Social Work…it has never been as important to me as music.   Actually I have come to realize that they are very connected – the desire to help; the desire to write and the desire to perform…all about connection. So then it was not so much a change from hobby to career as it was a change from an intermittent pursuit to the daily pursuit of my music dreams.
Stoli: You have released 2 albums and an EP. How do you think you have grown as a musician over the span of these recordings?
Jill Cagney: I think I find my own voice more and more as I go.   With each record I am able to explore in a deeper way.   I think when I started I was very attached to what other people thought and making them happy.   I would go over each song in my head and think about people I know and wonder if they would like it. I have a lot more self confidence now.   I feel like I am coming into a place as a musician where instead of being afraid of standing to close to the edge of the cliff I am ready to jump off of it and see how it feels to fall.   I have faith that I will land on solid ground.   It is not that I don't care if people love my record or not…I very much do care;   it's just that I   don't care if everyone loves it…just that it finds its way to the people that will.
Stoli: Your website describes your sound as "Feisty, Fearless, Sarcastic Acoustic Rock." Would you say that this describes your personality as well?
Jill Cagney: Feisty – Yes.   People who know me well will say that at first I seem all nice and sweet but then the edge comes out…and the sailor mouth.
Fearless – I know that word refers to the lyrics of the songs.   I am not afraid to say anything when I write.   As a person it is a life goal that I work on all the time to live fearlessly.
Sarcastic – I do love a little sarcasm…just puts things in perspective sometimes.
[youtube bUD_3ImwtLA]
Stoli: I really like 'Nerves of Steel.' How long were you writing & recording the album and where can we grab a copy?
Jill Cagney: I am so glad you like it! From start to finish "Nerves Of Steel" was a year or so in the making.   In the fall of 2011 I felt the need to record.   It is like a craving that comes over me. I am very fortunate to have a great team around me so when I asked Gene Foley, my amazing PR guy, what he thought he said to go for it.   When I texted my producer Jason Rubal asking what he thought about doing an EP instead of a full length CD he texted back "YES!!!"   We recorded the CD over the course of a few weeks in January of last year.   It's available through my website JillCagney.com and through   ITunes. Amazon and CDBaby,
Stoli: I love your song "Stop Talking." What is that song about and did you write that?
Jill Cagney: Thanks!   You know that person that talks all the time that interrupts you in the middle of a sentence to tell a story that is better than yours?   The person that basically vomits words all over you and then walks away…that never says "Oh, by the way how are you?"   This song is about that person.   It was also a reaction to having a day job that requires me to do a lot of listening and a house full of teenagers…sometimes it feels like all those people are one person and they won't stop talking and I just feel like shouting shut up!!!!!!!
Stoli: I love how your songs deal with real life things that we can all relate. What happens during your day that inspires you to write lyrics?
Jill Cagney: So many things.   On "Nerves Of Steel" the title songs came out of a conversation with my boys at dinner about what super hero power we would most like to have.   "Missing" came from work and having to be the person that has to evaluate students if they are at risk for suicide/homicide.   "The Creeper" came from a dude I saw down the shore who kept approaching girl after girl on the beach and "Procrastination" came from observing all of the things I do to avoid sitting down and working.   I recently finished a song about putting down your cell phone and after today am inspired to write a song called "Feral Bitch"…about people who look sort of feral when they get mad.
Stoli: What musicians do you like to work with either in studio or live?
Jill Cagney: Roy Nash has played bass on every recording for me and I think he is amazing. He is also one of the nicest guys I know and will travel the two and a half hours from PA to come play with me in NJ. All of the musicians I have worked with at the Seventh Wave Studio have been fabulous!
There is an amazing network of musicians in the South Jersey area that I have begun to form relationships with and I would love to get a chance to do some work with them.
I have a dream to work with Jack White.
Stoli: Who is your greatest influence and inspiration to play music?
Jill Cagney: I don't know that there is one greatest influence for me.   I think there are different answers for different eras of my life. Chrissie Hynde was a big one, U2, Joni when I first started writing.   People like Time Burton who are prolific in their art really inspire me. Right now I would have to say Jack White and Amanda Palmer.
Stoli: Being from NY/NJ area, how did Hurricane Sandy effect you and do you think the Jersey Shore should be rebuilt?
We got very lucky during Hurricane Sandy.   There were some branches down but other than that we never even lost power. Transformers were blowing like fireworks all over the place.   I have neighbors across the street that lost power for 10 days. After the storm we kept thinking we should climb up the pole in front of our house and put a little gold star on our transformer to thank it. I have friends who lived down the shore and lost their homes; very sad….but you have never met stronger people than Jersey people.
Yes, I think the Jersey Shore should be rebuilt.   The people that live there need their homes and businesses back. I understand the argument about the repeated expense of rebuilding certain homes that get hit regularly but I think in this instance the storm and damage were catastrophic and places got damaged that have not been damaged before.   They deserve the chance to rebuild.   Think of all of the generations of people who have grown up at the shore.   We all have such wonderful memories and associations and we want that for our kids too.   We don't give up so easily here.
Stoli: What is coming up for Jill Cagney and where you @ online?
Jill Cagney: I am currently working on a tour for this summer where I can branch out further south and explore. I have some cool gigs coming up including Cafe Improv in Princeton NJ, The SS Cape May Conference and a streaming cable/TV gig in Feb for "The Working Musician Show" in White Plains NY.   I am very excited for this year and am positive it will be the best one yet!
Main: http://JillCagney.com
Facebook: https://www.facebook.com/pages/Fans-of-Jill-Cagneys-Music/331539812425
Twitter: https://twitter.com/JillCagney