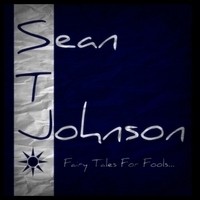 About the Artist: Kentucky based Singer/Songwriter Sean T. Johnson is clearly doing all the right things. There's a few lines from his bio that really spoke to me: What can I say, I have always been enamored with the acoustic guitar in music and the way it can be weaved in and out thru a song as if breathing.   As a songwriter I like to think that I try and write lyrics from the heart and melodies from the soul.   My new album entitled "Fairy Tales For Fools" is just such a creation. It is full of songs about life, love, hope and loss.   It has been years in the making and has been quite a labor of love.   All songs were written, performed, recorded and produce by me, with help on backup vocals and harmonica from Mark DeWitt and Kim Weber.
Review: So his latest release entitled Fairy Tales for Fools was released in 2012. I have to say I was extremely impressed with the opening 3 tracks "Waiting for You", "Lonely Girl" and "Purdy Road". They made quite the first impression with me. Each one possessed my full unadulterated attention. To be honest: I expected cheesy singer-songwriter Pop cut from the same cloth as say a   Jason Mraz. Not that there's anything wrong with Jason Mraz, I just want to hear something new. What I discovered was actually quite the opposite. The whole CD is wonderfully conservative yet full of what I would call positive acoustical energy with music that appeals to so many different senses on so many different levels. It reminds me of The Minus Five, Counting Crows, Bruce Springsteen and classic The Band. I can also hear the slight Americana/R&B influence in there as well. What I really like about Johnson is there is no attempt to deliver what I call over the top pop. Cheezy music with a handsome face via top flight sampling, cookie cutter songwriting via a mix that sounds more like a commercial than a piece of music.   It will also appeal to both advanced and novice listeners alike. Whatever kind of listening level you're on – some will identify with things while others will not. Weather it's musically, lyrically, inspirationally, emotionally, spiritually – if you feel like music is taking us in the wrong direction than rest assured Sean Johnson is taking us back in the right direction with Fairy Tales for Fools.  
My Favorite Track: Waiting for You.
Final Word: Sean Johnson will affirm your faith in music again. He represents all that is real and good in music and his latest CD Fairy Tales for Fools delivers a highly passionate 10 track catalog via top flight passion play, amazing songwriting and music that covers all the bases: Americana, Folk, Alternative Rock, R&B.
by Michael Keith edited by Mindy McCall
Overall Rating: 4.5/5