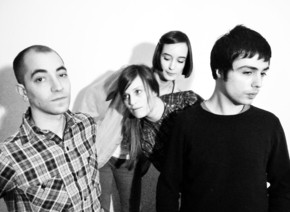 Beat Mark are one of a few French bands to strike with the noisy pop spirit of contemporary U.S. music (from MGMT to Dum Dum Girls),who don't hide their mid-80s to mid-90s English influences.   Their sound has been described as nuggets of The Vaselines, and The Television Personalities with a few drops of The Jesus and Mary Chain, The Stone Roses and Primal Scream.    
[youtube hQ1f0-1w9Y0]
Some have even evoked My Bloody Valentine.     Whatever, the mix, the 2 boys and 2 girlsof Beat Mark from Paris have created a full-length album that has a raw and instantly refreshing new sound.   Who would have thought the French could be so chic hot.