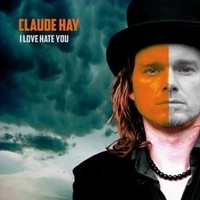 Australian native Claude Hay genuinely lives up to the phrase independent musician. Aside from being an instrumentally versatile, tech savvy one-man band, he has actually built his own instruments and studio.
Hay's guitars, constructed from kitchen bench tops and baking tins, are given such affectionate names as "Stella" and "Betty".
If he were just an unknown do-it-yourself talent, Hay would be impressive enough; but he has already tasted a good amount of worldly success: a Top 10 spot on the US Billboard Blues chart, and a 5th place spot on Amazon's top 2010 blues albums. Now comes album number three: I Love Hate You.
[youtube E_RgH6LVI58]
The opening track is the title track, where Hay introduces his contagious twang and southern rock swagger — is this dude really from Australia?
For track 2, "Good Times," the strings are dropped down for some visceral funk. About two minutes in, Hay starts to bend some crazy notes out of his guitar — is this "Betty" or "Stella"? Whichever one it is, that gal can holler!
"Stone Face" is a gritty and honest rock tune. It would make a fine complement to a shit-kickin' corrupt cop show (The Shield comes to mind). Both the lyrics and the guitar solo are as feisty as a prison chain gang.  
If you want to hear a chorus with bite and some fine dirty guitar riffs, head to track 9, "Don't Bring me Down."
Track 10 is a cover of "Come Together." Hay seems like such a maverick, I'm surprised he decided to feature someone else's music. But it's a fine cover, rendered with individual flair.  
https://soundcloud.com/claude-hay/01-i-love-hate-you/s-o5IAA
Track 11, "Hound," conveys such a sense of desolation and tragedy, but sounds so damn good you want more of the torment. "Hound" is like something performed by an old blues master yanked from a burning Bayou trailer.
I Love Hate You offers a superbly decadent taste of homemade guitar. As far as vocals go, Hay can juggle notes and switch octaves like an acrobat. Out of these talents, he constructs fine songs, which is another talent in itself.
In case you're just now tuning into the review, the album's great. Buy it here: https://itunes.apple.com/au/album/i-love-hate-you/id555485835
Then, join the present reviewer in asking: where the hell did this guy come from?
http://www.claudehay.com.au
https://www.facebook.com/ClaudeHayMusician
Ray Cavanaugh – owleyesgatsby@yahoo.com