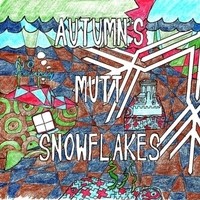 From the semi-arctic region of Quebec comes the appropriately titled EP Snowflakes, brought to you by the one-man entity known as Autumn's Mutt. Having been inspired by the burgeoning and seemingly ubiquitous indie scene, he began composing songs in 2008.
Snowflakes, consisting of four tracks, is the 'Mutt's second EP. Though some winter imagery exists, the EP is more than just a seasonal offering.
As the opening track begins, time slows down. The music hangs above the listener like a cloud of incense. On that note, Snowflakes would make a good complement to a venue designated for smoke-related products (tobacco use only).
Though the first track contains abrupt insertions of electronic music, they may not entirely jolt the listener back to sobriety. Strangely, the drums don't enter until three-quarters of the way into the song; these drums almost function as an exit solo.
Track 2, "Slow Reverse," is a rather more vivacious affair. But not everything is carefree. The speaker ruminates over the often harsh realities of our world, and also confronts the potential limitations of his own emotional capacities:
"Will it be fine if I don't care when all the world is survival of the fit? / Will it be cool if I shy away from a friend bleeding out from his soul?"
This song apparently has a philosophical agenda, as 85% of the lyrics are devoted to asking questions about abstract concepts. A reverb-intense guitar solo adds a cool touch to the latter part, which is somewhat reminiscent of pop-punk sultans Taking Back Sunday.
On the fourth and final track, "The Bush is Alive," Autumn's Mutt indulges his stated ambition to "bring into life as close as can ever be what many mistakenly believe is lifeless, cold and relative."
If you want to wind down an evening with metaphysical inquiry and a slight hint of the ominous, Snowflakes could suffice. Autumn's Mutt offers a youthful self-consciousness and quest for self-discovery that could appeal to many a listener.
The EP can be acquired at: http://autumnsmutt.bandcamp.com/
Ray Cavanaugh – owleyesgatsby@yahoo.com