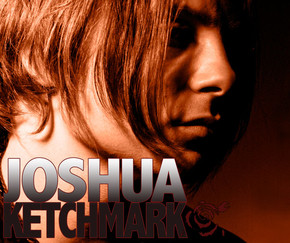 Joshua Ketchmark has made a damn good soundtrack to his life, and you should care. Why? Because it very well could be the soundtrack to yours. He rocks what he's lived– from falling in love to crashing into heartache, watching friends self destruct to lifting them higher, searching for truth to landing on the rocks of reality. He delivers it all with melodies and riffs that leave shout-out-loud anthems ringing in your head.
[youtube nUS4YSdCmXo]
Ketchmark grew up outside Peoria, IL, the adopted son of a conservative schoolteacher Mom and blues-loving manufacturer Dad. Straight laced as she was, his mother must have been a closeted music fan, too, because it was in her closet where he discovered an old acoustic guitar and a copy of "With The Beatles" that provided his early inspiration. He was an only child and the guitar he "inherited without permission" became his constant companion. It accompanied him throughout in his teens and on into adulthood, when he trekked from Illinois to Nashville.