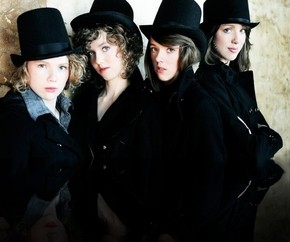 SHEL's arrangement of this holiday song written nearly 100 years ago is both unique and captivating.   Over 12,000 views on YouTube.
[youtube q2qVTj5JQ_w]
Signed by a famous Nashville producer (and Judds founder) in 2009, SHEL was "discovered" and signed to Universal Republic Records soon after. In 2010 they played the Lilith Fair in Denver, Country Music Association Fest in Nashville, Cornerstone Festival, and eTown with Los Lobos. SHEL packed Old Town Square in Fort Collins during their 2010 Bohemian Nights/New West Fest set, went on to play Yo Gabba Gabba's Live tour in the fall of 2010, and played official showcases at Folk Alliance International 2011 in Memphis and SXSW 2011 in Austin. 2012 saw the girls on a more widespread US tour, including two official CMJ showcases in New York City.