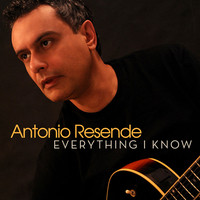 With his EP Everything I Know Brazilian songwriter-guitarist Antonio Resende has condensed "everything he knows" into a quarter-hour of song. These fifteen minutes — consisting of six tracks, four of them instrumental — offer a blend of Brazilian warmth and vivacity.
The opening track, "I Hope You Don't Say Goodbye," brings a rather soothing display of romantic sentiment, suitable for an afternoon coffeehouse date.
Track 2, "The Trapatum's Dance," is slightly more of an enigma. What is a Trapatum? A Google query yields scant information (at least in English). Is the Trapatum some funky mythical character? Or is it solely a creature of Resende's composition? No lyrics are provided. Perhaps the mystery of the Trapatum is to be divined within the abstract rhythms of music.
iTunes link:  https://itunes.apple.com/us/album/everything-i-know-ep/id561125091
Track 3, "Aborigene Funk," is a festive affair with lively, rhythmic background guitar. It should probably come as no surprise that the EP's pace accelerates with Track 4, "Soccer Stadium."
Here the controlled but rapid percussion leads one to think of the mastery of Ronaldinho's footwork. This track would also be a fine addition to the dance floor or the hectic, vibrant streets of Rio.
Two-thirds of the way into the EP, one might wonder: Will there be even one moment remotely approaching the melancholy? Is Resende, the author of such works as "Sunny Sky Salsa," even capable of such sentiment?
Spanning a total of 3 seconds, a quick succession of bluesy notes launching the final, title track is as close as the whole EP comes to flirting with sadness. And even this final track, one of two containing lyrics, offers words of reassurance: "All I got is everything I need…All I need is everything I know."
Those seeking music to capture their angst are advised to turn elsewhere. Those seeking a soundtrack on the groovy side of chill are cordially invited to: http://reverbnation.com/antonioresende
You won't be alone. Licensed by such heavyweights as Fox and Time Warner, Resende's tracks have already garnered 20,000 online listeners.
A population of 20,000 qualifies Resende as his own musical city — a small city by Brazilian standards, but one that offers a good amount of sunny Latin flavor.
http://www.broadjam.com/antonioresende
Ray Cavanaugh – owleyesgatsby@yahoo.com