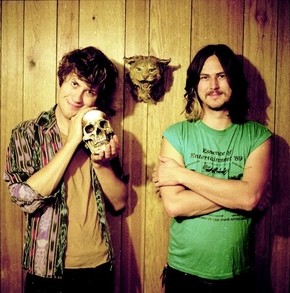 Maximum-minimalist power rock duo JEFF The Brotherhood will perform "Staring At The Wall" – a track from their current album Hypnotic Nights – on TBS's Conan November 15th. That night they will also kick off two weeks of tour dates in the Midwest and East Coast with California rockers Delta Spirit. In January the band will then travel down under for a tour of Australia and New Zealand in early 2013.
[youtube toUilg0uEdc]
Starting today, JEFF The Brotherhood launch a brand new video for "Leave Me Out" from Hypnotic Nights. The performance-based clip was shot in Nashville and co-directed by Jen Uman (artist & illustrator) and Bucky Fukumoto (Morrissey, Kasabian, Peaches, etc).