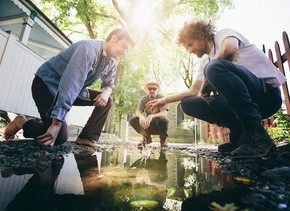 State Radio shares the official music video for "Freckled Mary" from their album, Rabbit Inn Rebellion – out now via Ruff Shod/Nettwerk Records.
[youtube 7vULMht_6xk]
Directed by Michael Parks Randa, the "Freckled Mary" video is about youthful rebellion and uprising.   Filmed in a fictitious city, the mayor administers gas masks to its citizens as consolation for record high pollution levels.   Not pacified, Freckled Mary is a proletariat girl who lashes out at the institutions that have destroyed the city that she loves.