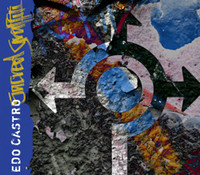 From San Francisco area comes a fresh Jazz Bassist known as Edo Castro who just released his latest release "Sacred Graffiti" in 2012. (2012) Under Passion Star Records.
I always listen to the opening track extremely carefully. It's the opening track the artist has personally selected to hit your ears first and foremost. The opening track "A Thread of Blue" sets the stage rather well for a modern day Jazz CD like this. It was a passionate intro piece that stuck in my head and had me eager for what lied ahead. All in all the whole CD is brilliantly delivered with a richly woven Contemporary Jazz texture with songs that have serious melodic staying power and amazing dynamics. Music will remind you of Chick Corea, Lee Ritenour, Return to Forever and Yellowjackets. To be honest I can't say enough about Castro's appeal and overall playing style. Rather than showboat, he plays his bass the way it's supposed to be played. His "Sacred Graffiti" features special guests including:   Percy Jones, Michael Manring, David Friesen, Al Caldwell, Grammy award winner Mark Isham, Steve Erquiaga, Chris "C3" Cardone, Ray Cooper, Dray Pryor, Savannah Jo Lack, Richard Gee, Erik Lindquist, Alex Aspinall, Dan Zinn, Jonathan Moe, Chris Stafford and Mark Bernfield.   Edo is also planning a future Bass project involving Stew McKinsey and Yves Carbonne. "Sacred Grafitti   captures a very pure and genuine sound that will touch the listener both emotionally and spiritually. Castro has a sound that favors many classic Jazz giants of the past yet with a modern day feel. I've never heard an artist so skillfully combine so many sounds into one unique sound. Weather this is by design or simply by accident it's amazing. The songs that stuck with me the most were "Sneaky Pete" and "57th Latitude."
If there was one word I would use to describe Edo Castro it would be passion. This CD will simply make your day more entertaining, but there is an undeniable soulful passion beneath Castro's playing. Edo Castro is the genuine article musician/composer, but it's obvious to me his primary goal as an artist is to make the world a better place one song at a time. If that's sounds corny so be it.
Rating: 5/5
Links:
URL — www.edocastro.com
CD BABY – http://www.cdbaby.com/cd/edocastro2
by Mindy McCall