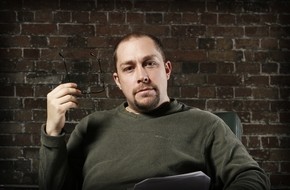 Luke Gartner-Brereton hails from Brisbane, Australia and he has been into music since he was a little kid.   All along he has played "anything he could get his hands on" and as a classically-trained guitarist Luke blends together Folk, World music and Latin rhythms.   When he's not writing songs or creating new sounds, Luke is writing fiction under the pen name Isaiah Black.   With three albums under his belt and three on the way plus talk of a new novel in the near future, Luke GB has no time to look back now!   This multi-skilled instrumentalist, composer, folk guitarist & author certainly has a lot to say but don't ask him to do a cover of "Stairway to Heaven" because he just may kick your ass!
J Rae:   I see that you're from Brisbane, Australia and so first I would love to hear more about what life is like there and have you lived in Australia your whole life?   Also, have you ever traveled to other countries and if so please describe your experiences?
Luke GB: Brisvegas? It's like a small town trying to be a big city. Weather is fantastic (long summers, mild winters), the people are…well normal I suppose, and the city doesn't have nearly enough parking. Brisbane strikes a nice balance between big-city-uptight and country-town-bumpkin. You go to work in a suit with no tie, and no one complains too much if you want to wear a scarf in the winter. You regularly bump into people you haven't seen in a while, and most of the time you drive to work with blue skies overhead and the windows down. The music scene is pretty vibrant and there are a lot of cool venues to play, though most of them make me feel very old, and lacking in the big-hair, lots-of-tattoos/piercings, area. I grew up in Melbourne, which is much bigger, and colder, and weirder. I've lived in Cairns also, which is hot as hell but gob-smackingly beautiful (the tropics), but I prefer Brisbane. It's like Goldilocks' porridge which is not to hot or cold, but just right.
[youtube R4B6FBlJ4K8]
I've traveled through Germany, England, Belgium, and been to Paris, Prague, Berlin, etc. Absolutely loved traveling through those countries, but I had crazy sinus problems the moment I got off the plane and ended up sniffling and sneezing and spluttering the whole time I was traveling. I love the old architecture in European cities and those small European towns with cobblestone streets and all that. Honestly, if the weather wasn't so ball-breakingly ghastly in England (compared to Brisbane that is), I'd be there in a second, warm beer and all! One of my favorite places to visit was Tubingen in Germany. A fantastic little university town with a gentle river running through it — Das ist Gut!
J Rae: Hard to believe that you started your solo career just last year because your music sounds so polished as if you've been playing music professionally for years!   I presume that you have been playing for a while prior to 2011 and if so how long?   What sparked your interest in making music, writing material and recording songs?
Luke GB: I started with music very young (6 or so) but never took it seriously until my teen years. I actually cut my teeth in a series of church bands, playing bass & electric guitar, piano, drums, anything I could get my hands on. That and trying to rip off Joe Satriani for hours on end as a teenager was how I really started as a guitarist. A hell of a lot has changed since then, but my love for music has continued. As to the writing/recording; I've always despised doing covers. Like, when you go to a party and someone asks you to play "Stairway to Heaven", it makes me think violent thoughts! Not that I've got anything against classic songs, I just think that the whole purpose of music is to create; create art which is singular and beautiful, or disturbing, or whatever, as long as it's yours. Most of my music these days comes from happy mistakes, through just fiddling with new ideas and seeing what comes out. I love that idea of a musical piece that kind of writes itself. No doubt that the stuff you listen to influences your music, but I like the idea that a piece of music is non-repeatable, a once off that's all the more special because you'll never be able to recover the circumstances of its birth.
J Rae: You're definitely a classically-trained guitarist that incorporates elements of folk, world and Latin rhythms.   Very cool mix of sound I have to say and I'm dyin' to know where this inspiration comes from?   Who and what inspires you to create these highly melodic, instrumental sounds?
Luke GB: I studied classical guitar when I was a kid, but never really practiced (too many other interesting things to do). Later in life though, I've become infatuated with flamenco guitar and that whole Spanish vibe. The stuff those guys do with a hunk of wood and string, and their own bodies, is incredible. It's like watching someone wrestle a demon or something, the way they tease the guitar and then hammer it into line. I'm also really attracted to music that has a strong melodic thread — music that sticks in your brain, that you can hum and sing along to. I'm not a fan of instrumental music that is technically exquisite but you'll never remember a second of it once you've heard it. I think melody and harmony are the purest goals of music. There's a strong adolescent temptation to prove how good you are when writing a song, so you tend to stick all of these intricate twists and speedy licks into a song, which ultimately detracts from the song as a whole. As I've grown a little older, I'm learning to look at the song as a whole, and dial back all the technically wizbang stuff. Also, I'm not the world's greatest guitarist, so it helps to focus on melody rather than impressing all of the other phenomenal guitarists out there. I hope that my music is catchy enough that people remember it, that it sticks in the brain and comes back to memory when you least expect it…or at least that people enjoy it as much as I enjoy making it.
J Rae: You already have three albums in just two short years, 'Dream Baby Dream', 'Serendipity' and most recently 'Mucho Grande' and so it's safe to say that you've definitely kept busy!   Would you care to talk a little bit about each of these records and what they mean to you personally?  
Luke GB: 'Dream Baby Dream' arose out of a need to try and help my baby boy sleep at night. I'd read that babies can sometimes sleep a little better with some light classical music, so I decided to pull together some songs and burn them to CD for the little guy (the baby on the cover is Alex, my boy, at 2 days old). I was incredibly surprised at how good a quality the sound was, considering I was playing on 11-year-old strings, on a 25-year-old guitar, through a $30 USB mic on my computer. So I did some research and released the album independently to see what would happen. Ironically, other people who bought the album said it really helped their children sleep. It never helped with Alex though.
'Serendipity' was performed on a new guitar, with some slightly better recording equipment. I was experimenting with a variation of drop D tuning that I pinched from Jose Gonzalez (who pinched it from countless others before him). I fell in love with the tuning and ended up banging out 10 or so songs in about a month and a half; they almost wrote themselves. These are more folky tunes, with a couple of lively ones thrown into the mix. It's a very soothing album, and when I hear some of these songs now days, I'm still struck by how nice they sound. It's almost as if these things have a life of their own as soon as you've finished them. I can remember playing every note, but it seems like it's someone else's work.
'Mucho Grande' is my first Latin album (as the name suggests), using the same drop D tuning but with a strong Spanish feel. I really got lucky with this one, particularly with "Panini Fandango" and "Locus Absurdum" (my two favorite songs). They were really just mistakes that ended up sounding really good, so I built on them and put together songs that seem to have a life of their own. I'm particularly pleased with the melody and the timing of the songs on this album. This is where I started banging the guitar as a makeshift drum as well, to add a bit more spice to the music. I had so much fun writing this, and it's definitely been the most popular album yet. While I'm no dancer, this is the only album where I've been tempted to "get jiggy with it" on occasion.
J Rae: Keeping up with your fast 'n' steady ways, I couldn't help but notice that you have a new album in the works!   Would you care to tell the Skope readers more about this?   I also noticed that you haven't decided on a title yet and you're even letting fans leave comments/suggestions.   These are the choices you've come up with so far: Red Pepper Flambe, Suculents and Taupe.   Have you decided on one yet or any new additions?   How about these: Salsified or Salsa Verde?  
Luke GB: Ooooh, I like Salsa Verde! It's a bit disturbing, but most of my songs have food in their names–not sure what that says about me? As to the album, I actually have three projects currently on the go (I tend to do things in threes, not sure why). The first album (yet to be named) will have a selection of songs from different genres; a mix of Latin, folk, and world, but I'm still so enamored with the Latin sound, that I may lean more heavily toward the Latin side of things. It will be instrumental, and probably release some time just prior to Christmas 2012.
The second album is with a friend of mine, an artist named Yvette Quibel from Sydney, Australia. I'm excited about this one because Yvette will be singing and she has a voice to die for (whereas I sound like a pig gargling marbles). We're calling ourselves GartnerQuibell, and I'm hoping the album will be out early in the New Year (2013). The songs will be similar to those on my instrumental albums, but Yvette's voice is incredibly smooth and polished, which adds a nice contrast to my rougher style guitar. There will be a mix of Latin, blues, gypsy, and folk songs on the album, and perhaps a hidden track or two.
Third, I'm working with singers/songwriters around the globe to put together a compilation album. The project is just in its infancy at present, but I have four artists already signed up, and each one of them has an amazing voice and a unique take on songwriting. It's going to be great to see what we come up with because each song will be based on my music, but have lyrics and vocals done by the other artists. It's shaping up to be fantastic.
J Rae: I see that you won the 2012 QMusic Award in the "World" category for the song "Panini Fandango", so first off congratulations on that!   Would you mind telling the Skope Universe more about this particular award and what it means to you personally?   Also, I'm sure the millions of Skope readers around the world would love to get more background on the track "Panini Fandango".   What is the significance of this song and what makes it stand out?
Luke GB: The QMusic Awards are held annually in Queensland, Australia, and they pick award winners in a dozen or so categories (Pop, Rock, etc.). My wife told me about the awards literally a few weeks before entries closed. I entered "Panini Fandango" into the competition, got selected for the finals, won the "world" category and then got up and did the worst speech imaginable. When the winner was announced, I was telling someone sitting next to me that "Panini Fandango" meant "sandwich dance" (a mix of Italian/Spanish words) and didn't realize I'd won.
The song itself is a sped up version of a tune I was experimenting with for another track on the 'Mucho Grande' album, and the melody just kind of came to me (not sure from where). There is no real significance to the title. As I've said, most of my songs have food words in them, and for some reason "Panini Fandango" was just on the tip of my brain when I wrote the song and it stuck. That's the thing; when I write songs, I literally name them the moment that I first start sketching them out, and I rarely go back and rename them. You could say that the name itself dictates what kind of song it is…or vice versa…or you could say whatever you want really.
https://itunes.apple.com/au/artist/luke-gartner-brereton/id468266177
I think the song stands out because it has an infectious rhythm and the melody really sticks in your head. I must have heard it a thousand times since I wrote it, and it still brings sunshine to my brain parts when I hear it, which is a good sign I suppose.
J Rae: What do you like to do in your spare time besides music?  
Luke GB: I write fiction (short stories, novels, etc.) under the pen name Isaiah Black (http://www.amazon.com/Isaiah-Black/e/B003YLKB3I). I have fun with my wife and 2-year-old son. At the moment, I'm building a sizable retaining wall, building a brick letterbox, and doing other kinds of man-work in the garden, proving that I am not just some wimpy musician type! (Although, putting the word "man" in front of "work" does undercut my prowess slightly). Other than that, I enjoy the odd simulated mythical smack down via online computer games, or simply reading a good book (usually fantasy, sci-fi, or philosophy).
J Rae: What's on the horizon for Luke Gartner-Brereton?   Anything cool 'n' exciting you'd like to share with the Skope audience?
Luke GB: Apart from the three up-coming albums, and hopefully a novel in the near future, I'm hoping to grow my hair back, though science isn't on my side with that one.
For more on this talented bloke from Down Under, SKOPE out http://www.reverbnation.com/lgbmusic.   If you blink you may just miss Luke GB coming out with fresh 'n' new creative works.   G'Day!  
By James Rae Jr. – jrae2@att.net