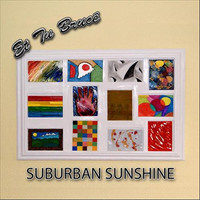 NEWSFLASH: London based 4 piece band Et Tu Bruce just released their latest CD entitled "Suburban Sunshine" (2012).
URL — http://www.ettubruce.com/
Review: Right from the start of the track "Dress Me up in Bruises" the music reminded me of pop starts of the past like The Beatles, Steel Wheels, Oasis, The Kinks, and John Lennon. But there is also a modern spin to his music that will remind you of the likes of Jack Johnson, John Mayer, Ben Harper and Donovan Frankenreiter. Musical styles presented: straight ahead Alternative Pop, Melodic-Alternative Rock, and Passion Pop. The musical delivery of Et Tu Bruce is pretty straight forward however credit must be given to the pen of paper straight from the heart as Et Tu Bruce manages to showcase and impressive musical craft and touches many powerful emotions: Love, Compassion, Hope, Joy, Honesty and Love Lost lamentation. Because of this the songs man up rapidly and set you out on a journey to properly steal heart, mind and soul. As you might expect, there is a bit of quality to this catalog that even touches on Ballady Psychedelic Pop. From the opening verses of "Dress Me up in Bruises" to the brilliantl chorus of "Never Say Trevor Again" to masterpiece 'Memories Remain" it's obvious these songs are a heart stealing languorous slice of grown up guitar euro-pop. Not far behind, however, is the impressive persona this band brings to the table — just being themselves refusing to try too hard. There is more than enough here to interest the casual purchaser and it is hard to deny kudos to Et Tu Bruce who would have been a Platinum Recording Artist if it was say 1985. When the CD was over I came to one final conclusion: I like everything about Et Tu Bruce .Their music made me feel better than I did say 45 minutes prior. That's when you know you have a winning band in your CD player.
Bottom Line: Et Tu Bruce delivers a unique, highly entertaining 10 song CD that shines with a brilliance compared to a priceless gem. One would be wise to keep a watchful eye on these 4. As experienced songwriters, performers Et Tu Bruce knows how to push the right buttons and pluck your heart strings with their grace and impressive musical finesse.
Buy Suburban Sunshine –   http://www.amazon.co.uk/Suburban-Sunshine/dp/B006Z023U4/ref=dm_ap_alb1
by Joshua Beach joshuabeach9@gmail.com Austin, TX
edited by Cyrus Rhodes