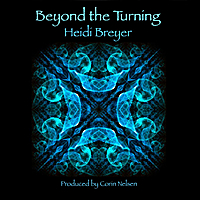 Fans of composition should find themselves lost in the aural landscape of Heidi Breyer's latest release, Beyond The Turning. The 14-track album is naturally piano led tunes with 12 weighing in at pure instrumental that play out like an "aural novel" of Breyer's life. From track to track, moods and feelings are instrumentally conveyed, but it is the multi-instrumental additions to the tracks that move them beyond simple piano arrangements.
Opening with "Farewell" and its steady piano progression, this one opens with an emotive ethos before finally surrendering to a piano and distorted electric guitar tandem. The opener is demure and atmospheric at times and the guitar/piano interplay work well here. The terse installments of "The Long Way Home" play out through three appearances and roughly run about a minute, save the final ("Passage 3") that almost reaches the two-minute mark. These installments are beautiful and poignant espite how short they play out, acting like an intermezzo pace break of the album flow. "Eight Steps Free" opens with the eerie Lyricon [and electric wind instrument] and lends an aura of Japanese flute work to the piece alongside the ubiquitous piano. Again, the song is built around the interplay between the tandem instrumentation. "The song represents a fundamental aspect of the human condition and the meaning of the album's concept of 'journeying.'" "Tea and Sympathy" is a rendition of Jans Ian's song of the same name. Breyer has wanted to record it since hearing it for the first time in college. The demure vocals play out over slightly subdued piano at the background. Simply, it is a vocally driven piano piece with occasional string picking.
Buy: www.cdbaby.com/cd/heidibreyer
If not niche for fans of this genre, Beyond The Turning will certainly command the right type of mood for a listen. The three-standout aspects of the album are Breyer's prowess on piano, her penchant for tight composition and her understanding of music. The range of guest instrumentation adds layers to the piano driven songs and creates layer of music upon layer of music. Occasionally, writers are asked to review artists that are beyond the scope of their personal music knowledge and this is one of those cases. My brief tryst with music in middle school puts Breyer far beyond my limited capacity for understanding classical instrumentation and advanced composition. But if the album proved anything to me worthwhile; it is that she is a capable, advanced artist who wrote an introspective album that speaks from the inside of her, outward.    
by Chris West – cwestlaz@gmail.com
[Rating: 3.5/5]