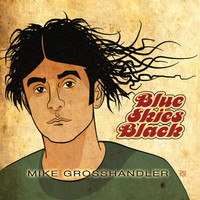 Solo artists seem to be coming out of the woodwork lately, and sounding pretty good at that. Thus is the case with guitarist for Upstate NY bands "The Velmas" and "Above The Flood" , Mike Grosshandler. Juggling roles in two bands, this hard working artist found the time to release a full-length album of his own titled "Blue Skies Black". His first solo release since 2004 which, aside from drums, a horn on one track ("Drive Me") and guest vocals on another ("Status Quo"), Mike has written, performed, engineered and produced it all himself. Voted by a readers poll in Metroland as "Best Local Solo Musician" and "Best Local Producer", Mike Grosshandler has already seen acclaim for this full-length album.
Delving right into the music, on the title track, "Blue Skies Black", he starts out with his axe, paving the way with a nice rhythm. Vocals on the track are smooth and reminiscent of a softer side of David Grohl. Very catchy with a solid beat, nice melody and perfectly placed solo.
On every track, Grosshandler showcases his great guitar playing and his soulful voice. With great pitch on belted vocals and excellent range with softer melodic tones. Adding feeling to the storied lyrics that helps the listener relate and connect to the path the whole album takes them on. None better than on the third track, "Nothing Much", where Mike seems to emit emotion and heartfelt feeling in his vocals. With a great solo bridge at the 2:25 mark of the track, lending the listener a retrospective moment to soak in the dream being chased.
On the track "Drops" he showcases some great keyboard playing with a violin overtone and xylophone symbolizing the tears of realization at the wrong caused from a lost love. Leaving the interpretation up to the listener of the songs meaning being of a lost love, or the singers quest for acceptance and self-exploration. Grosshandlers song writing is masterful and introspective, letting the wall crash down and giving one a look inside the feelings and thoughts of an artist who is seeking out the answers to his own path.
The same could be said about the final track, "Without You". The emotions come clearly through with the music arrangements and vocals. Clearly a song of missing a love from afar, or lost all together. Again, leaving that interpretation up to the listener.
Overall "Blue Skies Black" is a very entertaining and enjoyable release by Mike Grosshandler. Very well written, arranged, performed and produced. Showcasing the many talents of a very gifted artist. Grosshandler is definitely a musician to keep an eye on, whether it be in a band role or as a solo artist. "Blue Skies Black" offers that Foo Fighters sound, but with a slightly softer edge to it. Not to be so much compared, but offering his own style and distinction. Mike Grosshandler has hit a home run with this release and leaves you wanting to hear more. A concept that every artist should strive for and aim towards, he has completely nailed it.
"Blue Skies Black" is Available on CDBaby Here: http://www.cdbaby.com/cd/mikegrosshandler
Mike Grosshandler Links:
Website: http://mikegrosshandler.com/
Facebook: https://www.facebook.com/pages/Mike-Grosshandler/149409118502234
Twitter: https://twitter.com/mgrosshandler
Myspace: http://www.myspace.com/mikegrosshandler
By L. White
[Rating: 4.5/5]