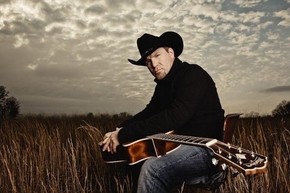 Back at it after a very relaxing Labor Day weekend. Lots of cold beer, BBQ, and music! One artist that I was playing this weekend was just perfect. I must admit that I have fallen for the sounds of the Billy K Band. Billy has created a country/acoustic sound that sounds great & speaks to the soul. With songs like "Beer Today Gone Tomorrow" and "I'm Looking At Her Now" there is not much not to like. With a strong album out now, 'Outrun The Rain' delivers and has got a few gems on there. I got a few tracks already on my Kindle Fire! Join me this week as we chat with Billy about everything from starting the band, mosquitoes, the election, and much more.
Stoli: Where are we talking from today and how has your summer been?
Billy K: I am currently in Ada, Oklahoma, I live in a small town in Oklahoma called Roff.. So far the summer has been crazy.   After coming back from the Tracking Room in Nashville we are booking up dates and preparing for our CD Release Party. Currently we are shooting Video for the upcoming album.   Hoping to get a couple of Music Videos out by the end of Summer.   So far the summer has been fast and furious.
Stoli: Has the recent outbreaks of West Nile & EEE from mosquitoes effected your outdoor plans at all?
Billy K: You know this year has not been as bad.   I have horses and I have always been worried and concerned about that.   I haven't seen very many Mosquitoes this year, maybe the weather pattern and coming out of the drought has helped.     Hoping new cases will stay limited..   When you have horses and animals its hard to stay indoors.   Always a little work to be done outside.
Stoli: At what age in life did you decide that you wanted to pursue a career in country music and how did your family support you?
Billy K: I have been playing in bands at an early age, playing in a few rock bands in High School.     Not trying to give away my age but I grew up listening Journey, Def Leopard, Eddie Money, Brian Adams, U2, Aerosmith, Bad Company and many others in that era.   But I also grew up listening to Willie Nelson, Johnny Cash, Charlie Daniels, Marshall Tucker, Allman Brothers, Jim Croce, Steve Earle just to name a few.   So my influences are all over the place and I am thankful for that..
Stoli: Who are the other members of the Billy K Band and how did you all come together to make music?
Billy K: The Band has evolved over the years and took on a life of its own.   Danny Purser and I have played music together for well, I will say awhile..   He plays guitar.   He is a great friend as well as a great musician and hears and sings harmonies.   I would say he gives the band an edgy side with his rock Roots.   Jeff Sibble is our other Guitar player.   Jeff and I have known each other for along time but never played together til now.   He is country to the bone.   He is a veteran player that has traveled playing here and abroad.     He also has an amazing voice which is credit to himself and the band.   Gavin Doss, is the baby of the bunch and our Bass player.   He is 22 and still surprises me with his music ability.   We have a standing joke on stage when we are about to perform.   We will tell each other at some point to not Gavin it up.   Ill let you read into that what you want.   Jaime Anderson is our drummer that had to take leave with his wife.   He is an amazing drummer that has been playing for quite some time.   We have Ron Lane on drums currently.   Ron is a veteran drummer that has allot of experience on stage and is an asset to the band.
Buy: http://www.amazon.com/dp/B008BYX6WQ/ref=cm_sw_su_dp
Stoli: Your new album 'Outrun The Rain' is out now. How long were you writing that album and where did you record the album?
Billy K: How this came about is a story in itself.   My writing has lent itself toward ballads, country or Red Dirt feel..   I was asked to be part of the American Artist Showcase.   I submitted songs there 2 times a week.   I was approached by Rickey Lee Watson.   At the time he was VP of Redtail Records and now with AMC Nashville. I was pitched to record some songs that had just been written by some of the best in the industry,   for example, "I am looking at her now" was written by Alex Call who wrote 8675309. So I was honored to to them.   I recorded the album in the Tracking Room in Nashville Tennessee and my Producer was Buddy Hyatt.   All I can say about the Tracking Room is Wow and what and experience.
[youtube 3lmq3rhDGdg]
Stoli: Just by being on your site http://billykband.com I can tell you understand how to produce, market, & distribute your music. What is the advantage to being an independent artist in 2012?
Billy K: Being and Independent artist can be tough but is does have its advantages.   The toughest thing is getting someone to give you enough time to listen once.   There are some great musicians   and Artist that never get the time of day.   As an   Indie artist you just try to win over one fan at a time and hope people will share.   We don't have big budgets, mostly just blood, sweat and tears.   I have seen other great Artists make mistakes along the way.   I tried to learn from that and and develop some new ideas.
Stoli: I love your song "Gone Rebel." What is that song mean to you & when did you write that track?
Billy K: Gone Rebel is a fun song written by Mitch Townley, He is a great writer and I am happy to have the opporunity opportunity to cut the song.   We have a great video planned out and can't wait to get it done.   Being from Oklahoma, I have seen this song come to life with a few girls so I can relate. Great Song.
Stoli: What two artists would you say had the most influence on you within the country genre & why?
Billy K: So many artists have inspired me.   I am very loyal to music as a whole and try not to get tied up or paint myself in a corner but I love listening to Jim Croce(tell stories), Steve Earle and Charlie Daniels.   If   had to say a more traditional   Country influence, I would have to reach back to Marty Robbins.   He just grabbed you and drug you in.     His writing just put you in the Saddle with a six gun on your hip trying to find the love of your life or why you lost her. As far as Modern Day Country I have allot of respect for Toby Keith.   He wasn't afraid to stand up for what he believed in and break away and do something different.
[youtube kJbqBzhuFbs]
Stoli: How much time per week is put into your music and do you also have a family/job?
Billy K: Like most artist, I have a job.   Been working on at Dunn's Fish Farm for the past 10 years.   They have supported me being a musician and I appreciate that.   They are like family.   I am married and have 2 girls that are the most important thing to me.   They are God's gift to me and I do my best to take care of them.   My wife is supporting of the music, we still have bills to pay so putting in allot of hours in a week is a must to make it all happen.
Man tough question.   Being on a computer, mobile device and social networking music is a must for Independent artist.   So if I were to say how much time between picking up a guitar and singing, practicing, shooting video, networking, its easy to tie up 80 hours a week, every week.   I know I have put in more time than that.   Its a tough line to walk and stay true to the music but   you just have to make time for both when you are an Independent Artist.
Stoli: All we hear about is the upcoming election. What is an issue that is of concern to you and will you vote in November?
Billy K: Yes I will vote, Politics are ugly and honestly disgusted with the system as a whole. Politics is a chaotic mess that we have lost control of..   Its un-artistic, if you don't mind me using that as a word.   Do I think there is a good choice this year, I have to honestly say no.   I stand behind my troops my country.   My main concern is that we don't compromise who we are as Nation.
Stoli: What is coming up for Billy K and where you @ online?
Billy K: We are working on Radio Touring and promoting the Release.   We are going to stay busy putting music in front of the people. Music videos are coming up next so stay tuned..   We will be having allot of fun with that.
Here are a few places you can find us online:
http://www.billykband.com
http://www.facebook.com/TheBillyKBand
http://www.youtube.com/user/BillyKBand
https://twitter.com/billykband
http://www.cdbaby.com/cd/billykband