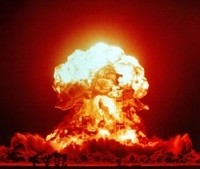 Rebecca Loebe, Circus Heart (self-released)
Much like Linda Ronstadt, this Austin-by-way-of-Georgia girl can belt country-tinged pseudo-balladry and switch over quickly to torchy, half-there crooning.   Loebe's on her third LP at this point, having made no small amount of hay out of a successful showing on American TV's The Voice, impressing Christina Aguilara and Adam Levine, the latter agreeing to "mentor" her, whatever that means (I'm picturing Levine hamming things up for the camera, furiously trying to get something out of her that make her cookie-cutter enough for the 80-year-olds who watch that show).   She's an okay songwriter, excelling with the lyrical end of it (any potshot at Nancy Grace is a potshot I can get behind), although she can get a little too "humorous" with it, shtick which works better with singers who aren't anywhere near as naturally talented as Loebe — when she's aping it up with quasi-salsa (the title track) or bobby-socks-50s ("Darlin") it's like watching your aunt try to make you laugh at a joke you've heard 90 times already.   The girl needs to grow up a little, is what I'm saying, and watch out when she does.
Grade: B- [Release Date: 9/18/2012]
The See, Pretending and Ending (self-released)
If Anthony Kiedis from Red Hot Chili Peppers suddenly up and joined The Strokes it'd probably sound precisely like this debut album from Arkansas 4-piece The See, who've become hometown Little Rock heroes on the strength of an earlier EP and this, which was actually released in March and set to distribute nationally in September.   The sound is as formulaic as your basic 20something-bait commercial could ever ask for, catharsis often coming in the form of Kings of Leon stomp after tons of needless bars of hipster worship — perhaps this generation likes to get its mystery-meat filler out of the way during songs instead of committing entire tunes to the skip-button gods.   It's fine stuff, don't get me wrong; take away the most obvious Strokes-fanboy moves and in an alternative universe OK Go might be chasing these guys instead of the other way around — certainly one of these songs will get called up to the Bigs to soundtrack a T-Mobile or dog food commercial, if you count that as a positive.
Grade: B- [Release Date: 9/4/2012]
Teengirl Fantasy, Tracer (True Panther Records)
The Teengirl Fantasy duo is Nick Weiss and Logan Takahashi, who first teamed up at Ohio's Oberlin College.   They aim to make electronic music respectable by taking an improv approach: you start a loop and commence to throwing (hopefully compatible) samples and such at it.   This does fly in the face of the status quo, wherein the performers hit the space button on their laptop and dance along to the exact same mix every other tour-stop will be getting (it wasn't until Deadmaus recently copped to this fact of life that people stopped believing the myth, all of which is historically akin to the cigarette companies finally putting warning labels on the packages).   So, then, as it is with jazz, the trick is to do improvisation well.   In this case, a little less cheese would have been nice, but that does point out the inherent limits of — well, whatever off-the-shelf products these guys are using to make their sounds.   There's implicit belief in this project (Panda Bear and Romanthony added vocal tracks), but the ad hoc stuff seems as if it came from technology that's at least ten years old.   At least they're trying, I suppose.
Grade: B [Release Date: 8/21/2012]
Twitch the Ripper, Colorblind (Metropolis Records)
Like most indie labels, Metropolis offers a niche product — actually, in their case, it's two, one being goth-industrial and the other being little mini Depeche Modes throwing minor-league batting practice to critics, who usually make a few rude Depeche Mode comments and then go off to watch American Idol for the cleavage shots.   While it's true that this Connecticut twosome could be dismissed as a Depeche wannabe, they have a great sound to their album here… yes, okay, that's not a difficult thing to accomplish in a bedroom these days, but — okay, "Take Me To Oblivion," with its bonk-the-skull keyboard line, is a really good tune for what it is, and it doesn't — aside from the Gahan soundalikeness — actually ring up points in the drinking game critics usually play with albums like this:   "ripoff of 'Question of Lust' — drink!").   Past all this, it's always a comfort that so many young dudes of today find merit in downchill keyboard pop from the 80s, I suppose.
Grade: A [Release Date: 8/14/2012]
Korpiklaani, Manala (Nuclear Blast Records)
Now that was weird — didn't I just review a new Korpiklaani album?   Oh, that's right, 2011's Ukon Wacka got here late, so the appearance of Manala isn't a plot against me, just a sign that these guys really take their record contract seriously.     It's good they do, too, even if this LP is largely interchangeable with the last one: frost-giant punk-metal, sung mostly in Finnish, that isn't as novel as their first album, Spirit of the Forest, which threw in some subtle head-bashing with the over-the-top head-bashing.
"Petoelaiman" (am I saying that right?) nods in the churn-n-burn 80s- death-metal direction of Slayer, which is half this band's usual comfort zone, the other being a sort of Dropkick Murphys-slanted bonehead-folk-metal that's hilarious and truly heavy at the same time.
Grade: A [Release Date: 8/3/2012]
Mahlis-Panos Project, Protoleia (Greeksea Records)
In the wake of all their national troubles, you can tend to forget Greece's ancient culture, how long they've been around, their cultural relevance as bridge between east and west.   Simple setup here: Dimitris Mahil on guitar/oud, Toss Panos on (sublime, barely there) drums, Dan Lutz holding down the bass and looking on as hypnotizing, depthless rhythm and expression unfold.   Cliché as it may sound, this is, yes, precisely what you'd expect to hear playing in the background in a museum in some endless part of the world, but that's a special sort of gentleness people can use anytime. As ambient world-music goes, this drips class and art from every pore.
Grade: A [Release Date: 8/7/2012]
Chad Frey, Audiorape (Frey Nation Records)
I am so being punked by this, unless I'm not and this Ohio kid is serious about this… this thing.   Basically, you want to know?   Well, basically it'd be Kip from Napoleon Dynamite singing over some random garage-metal guitar and a good drummer, like the drummer is the only kid in the neighborhood — okay, the county — who plays decent drums.   That drummer's name is Adam Edwards, whose name is now etched forever into the annals of the internet as someone who played drums with Chad Frey, who sounds like Kip Dynamite.   Yes, worse things have happened to music, like Ke$ha, and at least the guy is honest (does anyone care about honesty anymore, even in the case of insane people who should be on meds?). What's that?   No, this is an actual CD.   Actual CDs were made of this album.
Grade: B [Release Date: 1/1/2012]
—
Outraged ranting, indie label release news and spaghetti sauce recipes are always welcome.   Email esaeger@cyberontix.com.