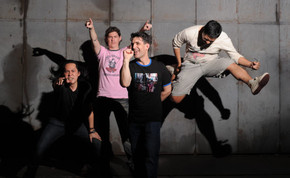 After a two week break, I am back at it! To start off today I want to declare that I am once again an avid music consumer like I was in my teens. During the transition from CD to digital I never found a device that allowed me to buy music with ease and not have to store all the files on my PC. As you know I am using the Kindle Fire & Amazon Cloud and it amazes me how easy I can buy tracks from bands that I find @ Skope. It feels great to be supporting the musicians I love! Now lets get to my next guest by the name of 7th Storey from Singapore. 7th Storey brings a new and unique style to the music scene by incorporating hard rock guitar driven riffs alongside industrial drumbeats and sci-fi movie like ambient sound effects fused together by vintage analog synths. I must admit I have 1 track of theirs on my Kindle and plan on buying some more. Not only is the music great, they have a real message. Join me this week as 7th Storey speaks on the Singapore music scene, Autism awareness, world issues, and much more!
Stoli: Where are we talking from today and are you getting ready for the fall season next month?
Daniel: Hi Stoli! We are speaking from Singapore today. As for the fall season, there kind of isn't one here in Singapore due to it being located next to the equator… so it really is kind of like having summer conditions all year round.   Regardless of the non-seasonal changes here though, we are currently in the song writing phase for our next album.
Stoli: I have no interest in the Olympics. Have you guys been following that at all?
Daniel: Yeah, some of us have been watching the Olympics when we get the chance. I wouldn't say that we are super fanatical about it although we do enjoy watching the various talent compete from around the world.
Stoli: How did you 4 guys come together and form the band and why did you name yourself 7th Storey?
Daniel: Well I had a number of songs that I had written and wanted to record back in 2010, which led me to making "The Temple Is Dirty" album by myself. I recorded and engineered the album in my house with limited software and hardware at that time.   Due to my gear limitations and time constraints, the album was a mediocre effort at best, but was good enough to at least attract some fans. It was at this point that I decided that I should form a full band to play the songs live.
I came up with the name 7th Storey based on the cycle of sevens in the ancient occult teachings. There are 3 cycles of seven, which once completed continue back around again. Each one of the three cycles plateaus at 7 hence 7th Storey, the highest level one can go through until the next cycle begins.
Stoli: How has being based in Singapore been both good & bad for getting your music out there?
Daniel: Since Singapore is relatively a small place, the good thing is that we have been able to become a well known band in a very short period of time here. The bad thing is that despite Singapore's talented artists and musicians, it still lacks the attention and recognition from global music community.
Listen: http://www.seventhstorey.com/music.html
Stoli: What are some venues that you get to play & see live music in Singapore?
Daniel: Despite Singapore's size, there are actually quite a good number of places to perform at.   For example, some venues are Substation, Prince of Whales, Home Club, The Esplanade, The Hard Rock Cafe, Hood Bar and Cafe, Blu Jaz and various others.
Stoli: I have to say how impressed I am with how Dan manages & plays in the band. How much time per week goes into marketing, networking, & social media?
Daniel: I'm not entirely certain exactly how many hours goes into all that because it fluctuates each week, but I can say that a good chunk of time is definitely allocated to managing and monitoring these tasks. This is also inclusive of logging and tracking our analytics for all our official and social networking sites.
Stoli: You guys have decided to donate half of the proceeds of 'The Temple Is Dirty' to the Autism Resource Centre located in Singapore @ http://www.autism.org.sg. How has that generous charity been going and why did you choose Autism as the cause to support?
Daniel: The charity is going OK, but it could always be better. What I mean to say is that, music sales in general are depleting for most all artists around the globe due to streaming technologies and so the less album sales we make, the less we can give to charity. Our last donation was in December of 2011 to the Autism Resource Centre.
Also we picked this charity because we feel that Autism is a growing concern around the world due to the increase of affected children and hope to be able to spread more awareness and information about this terrible syndrome.
Stoli: Break it down to me each member of the groups position and what they bring to the music that helps create 7th Storey?
Daniel: Well we have Adam Quek on guitar, which brings a whole new dimension to the sound given his odd time signature rhythms and abstract guitar riffs. Then we have the backbone of the band Allen Eu on bass guitar, which helps us to pull together all our ideas and provides great input on what other melodic options we should explore during our song creation phase. After that we have Laurence Bucci on drums, who delivers the driving mechanism and dynamics to help create that energy that tends to get lost with other bands that play to metronomes. Last but not least is myself, Daniel Rucerito. I usually create the foundation of the song lyrically and musically. I also contribute to the overall sound production in general.
[youtube f1eGw63gaDc]
Stoli: You guys have put out an impressive catalog of music with more to come. How much time per week do you guys play and where do you do the recording?
Daniel: We try to at least have 1 live practice per week that will be about 3 hours long. We also use www.box.net quite a bit to share our ideas when it comes to song writing, which helps out a lot and saves time from having to wait until we meet up to hear new ideas or parts from the other band members. As for recording, all of us have access to decent DAW's and usually just track our own parts from our own homes although this type of recording is ONLY for our demo purposes. When tracking for an album, we go to a proper studio.
Stoli: I love the song "Awake In A Dead World." Please speak on what that song means to you?
Daniel: This song really is about coming to a higher state of consciousness and alertness within oneself in contrast to their immediate surroundings and discovering for themselves the true purpose of their life. It's like tearing away the curtain from the Wizard from Oz, once you have done it, the truth and its purpose becomes indefinitely clearer.
Stoli: The world is in a tumultuous place right now. What is an issue we all face that concerns you?
Daniel: Well I can't speak on behalf of what the rest of the band may think about this issue and I really don't want to sound like a beauty pageant contestant, but for me, it really is about world peace at this time. Despite our personal nationality, culture, race and color, we ultimately still have to work together as a global society and pool from the same resources on this Earth to create a better future for all of humanity. It seems that from religion to government, the systems that have been around for some time now are no longer able to sustain us as it stands.
Don't get me wrong, as I believe that both religion and government are important and should have their place in everyone's life, but I truly feel that all religion should be taken spiritually as a moral guideline to living and NOT taken literally word for word from any sacred text, as this will just continue to divide us for endless ages to come.   As for government, the most important government that needs to exist is SELF GOVERNMENT. I can't help but agree with Michael Jackson on this one, to truly make a change in the world, you have to make the change within yourself. If we could all do this, then the world would change for the better overnight.