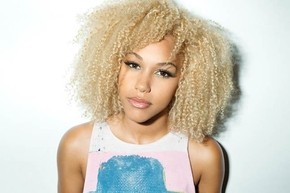 Wake up to a new star rising with "Sleep When I'm Dead," the debut single from sensational 19-year-old singer-songwriter-dancer K. Rose via the Epidemic Music imprint of hip-hop superproducers Cool & Dre and Interscope Records. Cool & Dre are renowned for their work with Lil Wayne, Rick Ross, Game, Wale, Busta Rhymes, Nas, Ludacris, and Queen Latifah (whose management company signed K. Rose).
The new track was produced and written by K. Rose and acclaimed global dance music producer Steve Angello (Swedish House Mafia). Check out the "Sleep When I'm Dead" viral street video released today HERE.   The video was choreographed and written by K. Rose and Directed by Guy Logan.  
[youtube l-CGki2rjOo]
K. Rose has greater goals than mere show business success.   She has dubbed her philosophy the RoseBot Rebel Movement, an army of youth fighting to find their purpose and place in the world as a way to achieve peace and happiness. Combining softness and strength, life and machine, the rose and the robot, K feels this is what embodies the youthful spirit of her generation. "Sleep When I'm Dead," for instance, "is about never giving up," she says.   "Everyone around you may tell you what you need to do with your life, but only you can write your own life story."   She hopes to spread the message of hope to struggling youth everywhere through her music.