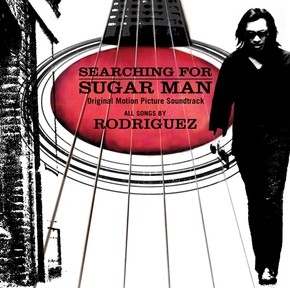 One of underground rock's most unusual stories of the 1970s, the tale of an obscure debut LP by a Detroit singer-songwriter named Rodriguez becoming a source of hope and inspiration to the anti-Apartheid movement in South Africa, is the basis for the thought-provoking new film, SEARCHING FOR SUGAR MAN.   The original motion picture soundtrack album is available now through Legacy Recordings, a division of SONY MUSIC ENTERTAINMENT. The vinyl version of the soundtrack will be released by Light In The Attic Records.
[youtube pzfdYRldD68]
SEARCHING FOR SUGAR MAN, a Red Box Films & Passion Pictures Production in association with Canfield Pictures & The Documentary Company, distributed by Sony Pictures Classics, premiered in New York on April 24th at the Tribeca Film Festival.   The film opens in New York and Los Angeles on July 27th and will open in other markets throughout the month of August.  
For a complete release schedule, visit the film's website  @: www.SearchingForSugarManMovie.com.