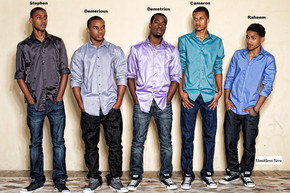 Getting the attention of the organizers of the Democratic National Convention is no easy feat but Limitless 5ive, comprised of Demerious (15 yrs old), Raheem (16 yrs old), Demetrius (17 yrs old), Cameron (17 yrsold), and Stephen (15 years old), has done it and earned themselves a coveted spot among the lineup of performers.   Although none of the boys are of age to vote yet, they have certainly done their part in exercising their civic duty to be informed and politically active and are proof that determination, hard work, and a positive outlook remain the perfect combination for success.
[youtube xeGrgewqEXw]
Since meeting in a high school chorus class just two years ago, Limitless 5ive has recorded a YouTube hit and performed widely throughout the United States, including a performance at A Night of Healing: the National CARES Mentoring Movement's Response to the Trayvon Martin Tragedy.   The boys of Limitless 5ive were initially drawn together because of their love of music combined with theirdeep interest in political and social topics.   This combination has fueled their lyrics and harmonies as the group continues to develop and hone in ontheir unique sound and style.
Future performances for Limitless 5ive include:
September 2-3: Democratic National Convention, Charlotte, NC