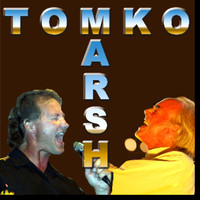 About the Artist: This is TomkoMashs's debut CD entitled "Slow Dancer" (2012). For those who may not know Larry Tomko and Peter March have over 60 years of musical experience between them. Larry Tomko came to France via San Francisco as a sax player, songwriter and backup singer. After contributing to acclaimed studio projects he formed his own band and toured as opening act for Ella Armstrong. Peter Marsh is concerned: His career extends back to the mid 1970s when he released albums under various band. His knack for songwriting led to writing music for big names of the time like Nick Lowe and soul legend Jimmy Ruffin, and session work with artists like Manfred Mann.  
Review: "Slow Dancer" is one release that certainly doesn't disappoint. These   2 artists brings to the table a plethora of musical experience that cannot be called into question. Add in effective songwriting with an arsenal of impressive players, this makes for a very deadly combination. As you would expect TomkoMarsh deliver music that was popular in the 1970's From Classic Rock, R&B and Jam band. The CD is quite entertaining with an infectious musical persona and amazing vocal front. Clearly TomkoMartsh are popular artists for a reason. Some songs happy, other sad, all testament to the priceless human condition. TomkoMarsh manage to touch ball the emotions on this CD. With music that is wonderfully simple but masterful in their overall arrangement. Music reminded me of a cross between Crosby Stills and Nash and Joe Cocker.
Weakness: CD lacks the ability to grab some modern listeners. There are some that would suggest TomkoMarsh lack a modern Marketability spin when connecting to fans that were not born before 1980.    
Song Samples from the CD: Song samples from TomkoMarsh "Slow Dancer" are available on SOUNDCLOUD: http://soundcloud.com/tomko-1/slow-dancer-long-version
Conclusion: "Slow Dancer" by TomkoMarsh stands out as an amazing musical statement. The strong suit of these 2 is clearly their experience level when it comes to making the musical connection. What else can I Say TomkoMarsh is something cut from the cloth or musical legend. Yes the Rock n Roll gods are smiling.  
http://tomkomarsh.com/index.html
Rory Richardson
[Rating: 4.5/5]