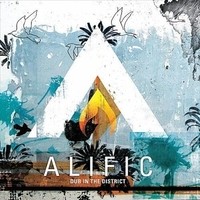 About the Artist: This is ALIFIC's latest CD entitled "Dub in the District" (2012). ALIFIC is the creation of Brendan Dane who is based out of the DC area. He is the musical mastermind of ALIFIC and his cited influences include "Long Beach Dub Allstars, Slightly Stooped, and Sublime.  
Review: What does Crystal Method have that Brendan Dane doesn't have? Not much really save the multi million dollar promotional machine. In this overly saturated genera/market a plethora of artists coming out of the woodwork. Armed with nothing more than a PC, Microphone and allot free time, they manage push their music out to the world. The title "Dub in the District" is the perfect title of a CD like this. It defiantly has an urban swagger to it with a deep seeded suburban aftertaste. Musical overtones that will remind you of Sublime, Overseer, Koma, Fluke and Lunatic Calm. On the other end of the sonic spectrum I can even hear Reggae and Power-Pop elements. Musical styles presented from Dane include Chill, Dub, Power Pop, Reggae, and a tad of Alternative Rock. All in all a well rounded CD that has much to offer the listener. My top 3 tracks on the CD are "Sun Roots, Poon and the title track.            
Weakness: CD lacks the ability to grab the listener within the mainstream Power Pop realm. There are some that would say Reggae and Chill don't belong in the same sonic space together.  
Song Samples from the CD: Song samples from ALIFIC's "Dub in the District" CD available on CD BABY: http://www.cdbaby.com/cd/alific
Conclusion: ALIFIC or Brendan Dane stands out from other composers within this saturated genera. His answer is to deliver something unique with a signature sound to call his own. The strong suit of Dane is his vast knowledge and experience as a Musical Producer. This coupled with amazing composition skills and thought provoking melodies make for a lethal combination. One would be wise to keep a watchful eye on Dane over the years to see how his sound will evolve and develop over time.
By: Rory Richardson
[Rating: 4/5]