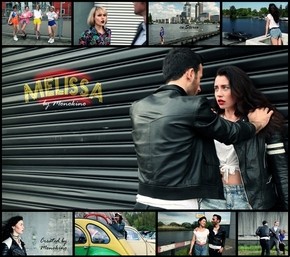 Dutch band Monokino wrote the soundtrack for the new GAG TELEVISION (a subsidiary of GAG ENTERTAINMENT INC.) drama series "Melissa." Furthermore, Melissa is the first single from the upcoming Monokino album.
[youtube _nt233jnhbE]
The show follows the life of Melissa, who is an outcast in many ways. She's been raised by her extremely religious, right-wing uncle after the early death of her parents. The show starts with Melissa's escape and journey to the city where she meets motor aficionada Roberto, the son of an antique dealer (introduced later in the series). Roberto doesn't like Melissa at first, but she manages to penetrate his harsh exterior and the two fall in love. Roberto tries to find out about Melissa's secrets, as Melissa is ambiguous about what happened in the forest during her first attempt to escape from her uncle. Roberto takes Melissa to his hometown where she finds new (girl)friends who aren't that friendly in the end. The only way out seems to flee the city. In addition to chronicling the friendships and romantic relationships of the characters, the show also addresses issues notable among teens including: date rape, gay parenting, teenage suicide, and anorexia.