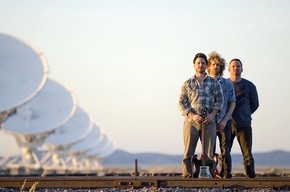 Dispatch has unveiled the director's cut of the video for their song "Not Messin'" via their YouTube Channel. Directed by so pa Productions (Coachella & Bonnaroo documentaries, The Low Anthem, Alexi Murdoch), the video was shot at Mishnock Barn in West Greenwich, RI – home of the region's best line dancing. More than 150 enthusiastic fans responded to Dispatch's call out for extras, and arrived at the video shoot location in their best Country Western attire.
[youtube 48MkNtm64Cg]
In an effort to continue to use music as a vehicle for change, Dispatch will donate $1.00 per initial pre-order to Amplifying Education, an initiative created by the band to support educational initiatives in local communities. An additional $1.00 from all tickets sold for the upcoming Circles Around The Sun Tour will also be donated to the cause. With the help of it's fans, the band raised over $250,000 for the initiative in 2011. For more information please visit www.dispatchmusic.com/giving_back.