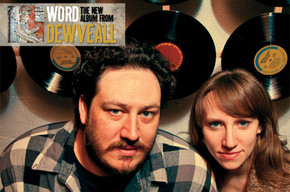 East Nashville musicians Dewveall are proud to announce the release of their new album, Word, on June 26, 2012. A lot has changed since their last release three years ago. Now in their 30's, Dewveall has abandoned much of their pop-folk sensibilities and road-tested many new songs. They aren't the same people, or the same musicians, that they were back then.
[vimeo 42778593 nolink]
"We have something new to say and decided it was time to put some of those new songs out there," Jonathon said. "So we teamed up with several good friends to start recording this new six song ep."
One of the songs is an updated version of Runaway Sun, a previously released single. The other five are songs that their fans have fallen in love with at shows and songs that mean a lot to them personally.
"The most important thing to us is that we put out the absolute best record that we can for all of you," Melanie said. "We've poured our energy and emotions into these songs, from the writing to the recording, and we're very proud of what we've got so far."