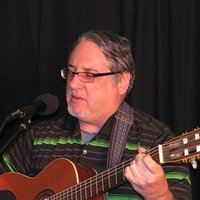 Massachusetts singer/songwriter Mike Gutierrez-May has released his new single–the demure "Taliesen." An homage to Frank Lloyd Wright's Summer home in Wisconsin, the track is one of allegory in that the home shares its name with a seventh century bard of the same name. Translated, "Taliesen" means, "rumpled brow" which also served as inspiration for the construction of the home. Thematically, the track recounts the tragic history of the property: one of murder and arson.
While Gutierrez-May supplied the storyteller lyrics for the track, Chip Withrow supplies the vocals. Piano, supplied by Kristian Borresen, opens the haunting track with Withrow's gruff vocals joining in. The down tempo ethos of the track echoes as the subject matter begins to get darker with verses of infidelity and abandonment. Stuart Epps supplies guitar accompaniment with additional piano work by Paul Hirsh. While the accompanying music is beautiful, again the dark imagery of the lyrics is the track focal point.
"Taliesen" – http://musicxray.com/xrays/509090
The musicality of "Taliesen" is simple in execution, which allows the listener to delve into the slightly ambiguous lyrical matter. The piano is an apt accompaniment for the slightly dark ethos of the track. But more so than song one would do well to approach this within a "more story than song" type of track.
Christopher West – cwestlaz@gmail.com
[Rating: 4/5]