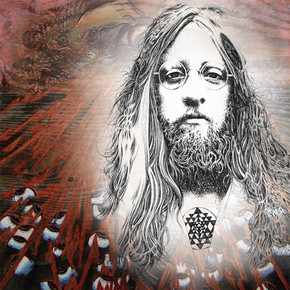 A native Oregonian, Scheidt did time in the '80s hardcore scene in the mid-Willamette Valley (he's lived all his forty-one years in the Eugene area). But with Ken Kesey's Oregon Country Fair so close, and rainbow gatherings on a seasonal basis right next door, Scheidt was inevitably drawn to some roots beyond his punk and metal leanings. Taking guitar lessons from none other than Zoot Horn Rollo (of Captain Beefheart's Magic Band) and learning to fingerpick while selling guitars at McKenzie River Music, he found weight and passion in albums by Townes Van Zandt, Guy Clark, Merle Travis, and Crosby, Stills, Nash and Young.
MP3 "IN YOUR LIGHT":
Stay Awake combines elements of folk (both Western and Eastern) with epic arrangements and dramatic emotions, the latter being hallmarks of classic rock ballads.   The music is meant to be intense, spacious and passionate while still being somewhat straight-forward and familiar. The album was recorded by Sub Pop legend (and more importantly to Scheidt a close personal friend), Tad Doyle at his Witch Ape Studio in Seattle, Washington.