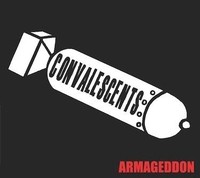 The band CONVALESCENTS consists of front man Dylan Busby, bassist Eric Lehman, drummer Ben Duncan and guitarist Gideon Priegel. They have all been friends since middle school which is revealed in how they work together on their first full length CD, "Armageddon". These guys are focused and on a mission and are pumping out some hard core rockers.
First of all, I have to commend the drummer. We all know drummers are the backbone of a band, they keep that driving force and everyone all together. Sometimes they do not always get the props they deserve. Well, this guy goes beyond the call of duty and creates a powerful atmosphere that can be felt in the very core of your being. Beat after beat he awakens something inside that you never knew even existed.
Ok, now they have my attention. This CD is a slice of life. Each song tells stories about a day in the life of your average 20 something trying to cope with every day struggles. It has this cool angst vibe that gets your adrenaline pumping. Sometimes the best medicine is empowerment and this music is an excellent catalyst for those emotions.
Hats off to these guys. Talent is a huge part of what makes them a great team. The other part is keeping it real and doing what they love. Being in a band is like being in a relationship and they always work best when everyone is working together. "Armageddon" is a nice body of work displaying poised vision.
Rebecca Hosking – hoskingrebecca@gmail.com
[Rating: 4.5/5]