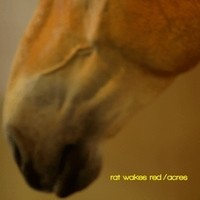 Harmony, harmony, harmony and musicianship at its finest is what you will get from Rat Wakes Red and their new release titled 'Acres'.   Just from the name of the band alone, I am already very intrigued and I so badly want to get to the bottom of this Rat Wakes Red.   Their story is simple and that is to supply 'Acres' and 'Acres' of valuable material and to never succumb to the scene that is best classified as "Popular" and mainstream.   Rat Wakes Red has more integrity than that as you will soon find out on their latest LP 'Acres'.  
[youtube NC-j5EPbU9o nolink]
The group is made up of leader James Raftery who is responsible for writing all 18 songs and dishing out vocals, guitars, piano, synths, organ and tin whistle.   You also have Jeral Benjamin who produced the record, wrote all of the stringed & wind instrument parts and played violas.   'Acres' also included Matt Raftery on drums along with Hannah Fury singing vocals on the song "Always", Brandon Blankenship on clarinet & bassoon, Heather Maclean on bassoon and Erin Deninger on french horn.   The wide array of instruments being incorporated here makes for one magical recording session.
The music is classified as rock, alternative folk and neo-gothic folk but what I am hearing is sheer elegance that is subtle to go along with an intricate style of playing & singing.   Just look at Rat Wakes Red and 'Acres' as a smorgasbord of musical dishes that a listener can pick and choose from.   One might experience a pleasant, dreamy feel at times but then one may also hear haunting melodies that come and go.
[youtube WwUbi471fI8 nolink]
I have to say that I was most impressed with the fine harmonizing that was going on here by James Raftery as the singing really seemed to grab a hold of your ear drums.   The entire 18-song set is vocally, musically and lyrically rich in substance and it comes across as extremely lush-sounding.   The relationship between singer and musicians is quite strong here as you will witness the tight connection being made.   The joy, the pain, the sorrow…the blood, the sweat, the tears…it's all being spilled out for you with James Raftery & company not hiding a single thing.   I only have one suggestion and that would be to include some more upbeat numbers perhaps ONLY if it doesn't affect who Rat Wakes Red is, as a band, and what they represent.   Otherwise, just leave it alone!   The Rat Wakes Red buffet is now open so come on up and enjoy the 'Acres' upon 'Acres' of delicious options.   The choice is yours!
By Jimmy Rae (jrae@skopemag.com)
[Rating: 4.5/5]