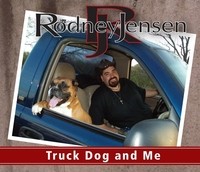 Rodney Jensen is the sole singer/songwriter on the new album 'Truck Dog and Me'.   Scott Andrews produced and mixed the record while also supplying all of the other instruments.   If you like some country mixed with rock, then you might like Rodney's latest CD.
Jensen has been singing and playing in bands for a long time where back then Rodney was consumed with rock and heavy metal.   Ever since the late 90s though, country music stole his heart but Rodney Jensen never lost that rock 'n' roll spirit.   The nice part about 'Truck Dog and Me' is that one will enjoy that down home country feel while also taking in some real rock and roll attitude.   Jensen and Andrews do a good job of blending it all together.
The listener will also hear that Rodney's got personality with his funny bone colliding with his serious side.   Material-wise, you will pick up on some very meaningful lyrics like on "Planned on Living", but then you'll also catch on to Rodney's wise-crackin' self as he mentions "J Lo's booty" during a particular track.   In all, I would say that the majority of the songs have a simple yet satisfying vibe that can really be taken in fully on the title track "Truck Dog and Me".   I really feel that track nine "One Country Song After Another" is one of the best songs on the CD both vocally and musically.   Rodney and Scott really nailed it on this one where it appeared, to me anyway, that they found exactly what they were looking for.   I wish I could say the same for the rest of the album however I do feel that Rodney's vocal delivery & style, at times, seem to come across as awkward.
[youtube r40ZIGu_Nww nolink]
I just think that Jensen hasn't found his right voice yet for this style of music and that he is still searching for that right fit & tone.   I did hear the determination though in Rodney's voice and so I know that he has it in him to find his inner country star persona.   The potential is there without a doubt and songs like "Truck Dog and Me" and "One Country Song After Another" are perfect examples of what Rodney Jensen is capable of as a singer/songwriter in the country world.   It's time to shine Mr. Jensen, so find your voice, stick with it and never look back!
By Jimmy Rae (jrae@skopemag.com)
[Rating: 2.5/5]