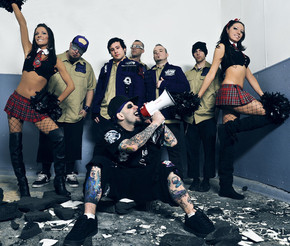 The Prep School Tragedy brings chaos to the digital realm in the official music video for the single, "Thought I Toldja".
[youtube 1PcmzUyHzcw nolink]
"Thought I Toldja" is the newest single from The Prep School Tragedy's debut album, It's All A Show available June 2012 through Accessory Music in association with Glitch Mode Recordings.
The Chicago electro-pop collective turns up the volume and aims their unique brand of frighteningly addictive grunge pop at society's technological obsession. "Thought I Toldja" is both sinister and sexy as it personifies everything the Prep School Tragedy is known for – catchy hooks, nasty synths, and best of all, those bubbly cheerleaders known as The Squad. With Human Twelve at the helm of director, "Thought I Toldja" smashes through the world of social media and text messaging in an off the wall attack of the senses that only the Prep School Tragedy could give you. Oozing with sex, "Thought I Toldja" is like a strobe light fetish come to life. Get out your cell phones because sleaze never looked so good.
To listen and purchase the single go to http://www.theprepschooltragedy.com