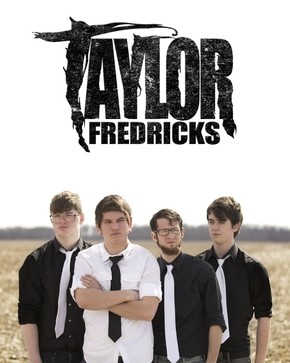 April is here finally. I filled up my tank today and paid $3.94 per gallon today. Can someone help me convert my tank to use vegetable oil? But I am not going to let it bother me as my guest today is a man and his band by the name Taylor Fredricks. These 4 guys out of Fort Wayne, IN rock and that is apparent on their 'And Then The Hearts Suffered' EP. What impresses me about these guys besides the music is their work ethic and deep, real-life songwriting. Is it me or are kids growing up faster these days and dealing with adult issues sooner?! Whatever the case, it works in this case. Join us as Taylor talks about getting started in music, the new EP, music as therapy, and check out their video "Chase Your Happiness, But Leave Your Guilt With Me." I will be keeping my eyes & ears on Taylor Fredricks!
Stoli: Where are we talking from today and are you ready for spring?
Taylor Fredricks: From my home in Fort Wayne, Indiana! And I could not be more ready for spring!
Stoli: When the band started it was just Taylor. What made you want to bring in the other 3 musicians and what were some issues you faced with the early band members?
Taylor Fredricks: Well I got signed with a former management agency a couple years ago and he insisted I get a full band to back me so we can play shows with bands. We have had former members within the last couple years but that has made our sound what it is now. Our first guitarist we had did not work out because what we were playing was not really his style, he was more of a classic rock guitarist than anything. Our first bassist, we actually just brought back into the band, Torey McCoy. He had his own personal reasons in the beginning which made him leave, but after losing our bassist we had after him, we gave Torey another chance at playing bass with us. From then on, we could not be more happier with the lineup of musicians which make Taylor Fredricks.
Stoli: You have accomplished an impressive amount in under three years. How much a role does your family and upbringing play into your ambition and work ethic to succeed?
Taylor Fredricks: Well music is something I've wanted to do practically all my life. Starting at age nine, I never stopped writing, playing shows, or even thought about giving up on music. I think a lot of it has to do with my own personal ambitions. We all have our own influences to look up to, and we all hope to be in their shoes one day. We market ourselves, promote for shows like crazy, and try to talk to new people at our shows to be on not just a professional basis, but on a more personal stand point as well. The more fans we connect with also becomes more friends we make.
Stoli: How much time per week do you guys get together and rehearse and   where do you do that?
Taylor Fredricks: We practice one to two times a week at our guitarist, Harrison Sade's house, or our drummer, Dylan Jones' house, in Churubusco, Indiana.
Stoli: Being that the band name is Taylor Fredricks, would you say that Taylor runs the show or are all members equal?
Taylor Fredricks: I definitely don't think I run the show, but I am the one to keep progress moving forward when it comes to booking shows and everything on the business side of it. We all contribute equally when it comes to writing the music and keeping things focus and on task. Harrison writes his own guitar parts, Torey writes his own bass parts, and Dylan writes his own drum parts. We also contribute ideas equally when writing a song and try our best to incorporate everyone's perspective on how the song should sound.
[youtube tGw1OPU-fIw nolink]
Stoli: I am really loving your EP 'And Then The Hearts Suffered.' How are you feeling about the album's response and where can we grab a copy?
Taylor Fredricks: Well thank you! I am glad your liking it! We are having a great response when it comes to the album and could not be more happier about it! We have had a couple great reviews about it and our fans love it! If anyone wants to buy the actual physical copy, they can buy it at our shows! But the digital copy is all over the Internet! People can buy it on iTunes, Amazon, CD Baby, and I think on Spotify too.
Stoli: I like the song, "The Hero Beneath The Shadows." Who wrote that and what is the meaning behind it?
Taylor Fredricks: I wrote it a few years ago and it's about being there for the person you love the most. It's about never letting that person fall, showing them how much you care about them, and hoping they will do the same back.
Stoli: I feel like people can relate to your songs and lyrics. Do you find it as a form of therapy to vent in your music about real life things like love, break ups, etc?
Taylor Fredricks: Well I get a lot of my inspiration from certain situations that are going on in my life. A lot of it has to do with some bad relationships I had but being in an amazing relationship right now, I have no need to write about that kind of stuff anymore. I also write about the certain issues that I have with my mother, which are not so pleasant, but it is a way of letting my emotions out and not having them get the best of me. We have a song called, "Forget The Helping Hand, When It's Quicker to Drop Dead," which is about trust and getting stabbed in the back by one's you become really close with, which a lot of people could probably relate to. All negativity aside, I write about love, trying to find love, being there for the people that mean the most to you. So just about everything I write is from my own personal experiences and are definitely a way to help me get through certain situations.
Stoli: What is a band similar to yours that you look up to and admire   for what they have done in the music biz?
Taylor Fredricks: We all have our own influences that make our style what it is. But as a band, we really look up to: Brand New, Protest The Hero, Vanna, Incubus, Underoath, Circa Survive, and The Devil Wears Prada. Kind of a unique blend of genres there, but our music would not be what it is without those amazing bands.
Stoli: What is a live show of yours like and what music venues in Indiana should we check out for live music?
Taylor Fredricks: Powerful and energetic. We are not a band that likes to stand still! We will start from one side of the stage in the beginning of the show, and end on the other side of the stage or not even on the stage, sometimes we end up going off stage to rock out with the fans! So if anyone is new coming to our shows, you will definitely have a great time! As for music venues in Indiana, we really love C2G Music Hall in Fort Wayne!
Stoli: What is coming up for Taylor Fredricks and where you @ online?
Taylor Fredricks: We are in a campaign with Eugene Foley of Foley Entertainment right now which is the best decision we ever made as a band! We are in hopes of getting signed to a good label, but if it doesn't happen for us this year, we plan on making our first full length album! Anyone that wants to know anything about us, can visit our website at: www.taylorfredricks.cjb.net to find videos (as well as our music video), photos, biography, news, press, and links to our Facebook and YouTube page!
website: www.taylorfredricks.cjb.net
Facebook: www.facebook.com/tfredricksmusic
iTunes: http://itunes.apple.com/us/artist/taylor-fredricks/id461466946