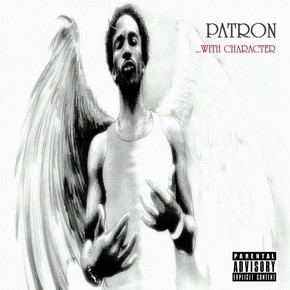 PATRON the Depth MC is a multi-talented hip hop artist from Baltimore who has studied to become a heart surgeon, broke a 25-yeal old university record for hurdling, and taught himself to play the piano; 3 things out of 3 that separate him from most other hip hop artists and provide him with a unique perspective when writing new music. After working 3 jobs in an attempt to support himself, he found success after writing "The Glory", which was published by RIM Music Group for Olympic programming in Sydney.
Since then he has released multiple piano CD's which have afforded him airplay across the globe as well as distribution with Nashville's High Horse Records. Licensing and award nominations came next. You'd think PATRON the Depth MC would be content to simply continue releasing piano albums because of the success it's bringing him, but, as with all true artists, he's hungry to express himself. He's currently hard at work on a hip hop album that's due in 2012, and already creating a buzz in hip hop circles.
How did you go about choosing your name PATRON the Depth MC? What does it mean to you?
My manager actually came up with patron and it just fit, I had been going by the depthmc for a   little while so it just made sense.   For me it just means I am the father of my own philosophy not a follower of anothers.   And that I always am diggin   for the heart of the matter.
As with many people, it seems that you have a multi-faceted character. Did you find that after years of piano releases, you needed to speak your truth on the mic?
For me, music without words is the purest expression of the artform, whether its   jazz, classical, etc…
I still feel this way.   But at a point were I felt I had mastered the piano to a certain extent(I don't think you can really exhaust any instrument)it was time to express myself in another way but I wanted it to be potent and have an impact.   Having been a poet since before I was a musician and having always been told by friends, fans that this is something they would love to hear from me after hearing me freestyle at a open mic or something like this it finally came alive in my heart to do a project like this, and I'm very happy with the result.
[youtube IakJbUGSMm4 nolink]
You've managed to line yourself up with some major licensing for your music. Was this something that you researched yourself? Do you have advice for other artists who want to achieve something like this?
That's really something my agency BSA took care of for me, in a changing marketplace it looks like licensing will continue to be a solid income source even if actual album sales don't come back, so I think it's important to make a name for yourself in that world as well.
What can the hip hop world expect from your upcoming 2012 CD release?
I'm bringing the truth as I see it, as lyrically interesting as possible, musically I approached creating each track to have a "character" of its own and I think I achieved that.   I hope people enjoy the music, and just traveling on the journey with me.
What would you consider the highlight of your music career to date?
I would say playing in Europe, to those fans , they were so enthusiastic. You really felt the love for hip-hop, which was nice to see.
How do you feel about the state of hip hop today?
It's in a state of flux like basically every other genre, it's moving a little into dance which gives it room to grow, but I wouldn't want to see it just become dance music.   Hip hop is a unique art form for a very specific kind of expression and I hope that never changes.   I feel as if I'm bring my musicality to hip hop along wth my lyrical vision.
Who in music do you currently admire and why?
It's interesting, and I don't know if it's just a change in the way we are consuming music, but I find myself admiring individual songs…and I'll find myself saying "man they really brought it on this one, or the other"   it's hard not to admire the longevity and consistent quality of someone like Dr. Dre though…
Do you have a life philosophy that you generally try to live by?
I'm not sure if I could narrow it down to one thing.   But I've always been about freedom.
I believe it's the natural state of humanity and a key to our happiness.   I tend to chase freedom in my life almost to a fault.
What else is in store for Patron the Depth MC in 2012?
Well I have a remix I am about to release speaking about my view of the Obama presidency I'm excited about that, we have a nice video, and the song will be available for download for free.
At my website www.patronthedepthmc.com, we are finalizing things now but it will be up this month. I'll be working on some film projects as a composer and will be hitting the road to play some festivals in Europe as well.
By: James: james@independentmusicpromotions.com