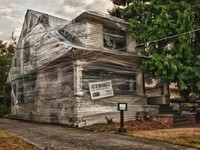 Art Kenyon is a rock/grunge/psychedelic/pop solo project from Vancouver (with the help of some excellent session musicians). You don't hear the terms "grunge" or "psychedelic" thrown around very often these days, but this is mainly because they have been worn out by our 'chew it up and throw it out' culture, not because there isn't any gold to mine. There most certainly is, especially when mixed with the intelligent use of pop and rock elements. Art Kenyon manages to achieve this with a sublime collision of dissonance and beauty on his "Cocoon" EP.
The title track "Cocoon" starts with a very catchy, slightly funky groove to support Art's smooth, slightly raspy voice in its quest for truth. His singing is heartfelt and suitable for a variety of genres. That's why he can effortlessly walk the line between pop, rock, funk, r & b, and experimental music. This is a brilliant Beatles/Radiohead inspired alternative rock song with substance.
"The Way They Try" opens with a robotic vocoder vocal effect, leading to the 1st verse which finds Art once again in the detached witness perspective, a philosophy embraced by Buddhists and Yogis the world over. It's rare that you hear pop/rock songs tackling this topic because it's quite misunderstood in the West. After all, most of our focus from childhood onwards is on "becoming somebody". "The way they talk. The way they try. The way they laugh. The way they cry. The way they love. The way they live. The way they hate. The way they die." It's a subtle message, and if you sit with it a moment, it's absolutely perfect. This song is not only astounding for it's message. The groove makes it a full-fledged hit. The chord structures, the intense, pleading vocals and the hooks themselves are so strong, "The Way They Try" could very well be in your head for days.
"This Girl's Trouble" switches gears for a dirty, low-down blues track. As with the rest of the album, both the band and Art Kenyon prove they're not afraid to make noise. With a very White Stripes sound to it, this EP hasn't had a dip in intensity yet. "Tuesday Night" takes the acoustic approach, complete with handclaps to keep the tempo up. Once again, the song-writing and music are both compelling. Most of all, Art proves his range as a writer here. "Juliet" features some great lyrics and very aggressive vocals, where Art cracks his voice throughout the last half of the song. Indie musicians should take note; this works! The clause is that you must be lost in the piece for it to be effective, and that is the case with this rocker. There is a hint of danger here, and that's a positive for any rock music.
"Always" closes the release, with another slow, heavy groove with a swing to it. The textures are thick and interesting, but that's no surprise. This is a love song, a heart-to-heart ode, and the fact that the backing music is so sludgy makes it much more engaging than the average song of this theme.
Art Kenyon is talented enough that he made me question why I haven't heard the name before. It could be because there are so many thousands of musicians out there; it's becoming more difficult to search, and to promote as well. I would recommend, highly recommend Art Kenyon's "Cocoon" to any fans of the White Stripes, Black Mountain, Radiohead, Sufjan Stevens and the Doors. This is a thoroughly enjoyable listen.
By James Moore – james@independentmusicpromotions.com
[Rating: 5/5]