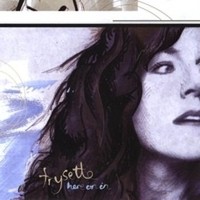 Trysette is a classically trained singer/songwriter from New South Wales, Australia who has recently released the full length CD "Here On In". She's been plugging away for quite some time now with a very productive output — she's released an EP and 3 albums independently before being signed by Global Journey Music. As is the case for many indie artists, releasing a high volume of quality music is the name of the game.
Trysette's voice is soft and sweet, suitable for adult contemporary ballads, soft pop and easy listening. "Cause You're Mine" is a pleasant enough love song with an engaging verse and sincere chorus — it sits somewhere between pop and easy listening, teetering dangerously close to background music at times.   "The Right Thing" brings an unexpected twist and a distinctly reggae flair, with Trysette's message of love feeling both soothing and poignant. Her harmonies hit the right chords, and the lines "Look deep inside you. Your soul will guide you. Base your decision on love" are on point. This is a catchy track.
"Fire in Her Belly" showcases a dark, jazzy side to both Trysette and her band. Minor notes and tension abound in the verse, and she's showing some Carole King chops and sense of mood here; respecting the discomforting energy. A beautiful track. Listen closely to the harmonies when Trysette sings "Fire in her belly" and sink in. "Moonlight Kisses" is a gorgeous folk/pop song, and Trysette is now moving from strength to strength after a somewhat slow start. This could be the most catchy piece so far, with it's up-tempo shakers and guitar/bass trade-offs.
"But Hey" has a similar, subtle feel to "Fire in Her Belly", although with a different sense of mystery to it — more mystery than darkness. "Take A Seat" has an r & b backbeat with funky bass and wah wah guitars, and Trysette holds her own, sounding playful yet disciplined. "Happy" shows the vulnerable side of her voice, and her Tori Amos side is evident here. Bitter-sweet and full of feeling. The song sets the mood and keeps the tone consistent in order to not betray the lyrics.
"Celebrate It" has a message of unity and an energy or great warmth, especially on the chorus where Trysette's voice shines. This could very well be a good theme song for all of us to pay attention to. "When I Hear You Sing" takes on a blues/country tone and it works. The band is tight and the consistent guitar riff sucks you in. "Just a Fantasy" sounds like a sequel to "Cause You're Mine", although this time the love is unrequited. It works as a down-tempo closer to quite a genre-bending album.
Trysette really has an intriguing, solid release here with "Here On In". She can be hard to peg, because some tracks show strong mainstream leanings, even adult contemporary ones, while most of the work shows a more experimental side. Fans of Sade, Tori Amos, and Carole King should enjoy Trysette.
Independent Music Promotions – james@independentmusicpromotions.com
[Rating: 4/5]