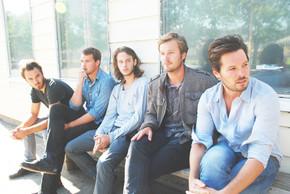 Brown Shoe kicked off their much-anticipated North American tour this past Saturday in San Francisco and in celebration, have released this spellbinding brand new video for "Sweet Crazy Baby," which made its appearance on 2011's The Gift Horse.
[vimeo 38035597 nolink]
"Sweet Crazy Baby" is the shortest track on last year's The Gift Horse, and also the most stripped and delicate song of the bunch, so it's fitting that the video be as simplistically beautiful as well. Featuring a single ballerina dancer swaying and moving to the tragic longing of each word sung by Ryan Baggaley, her graceful moves enhance the melancholia of the song. The brightened lights contrast with the darkened shadows that each member appear from, leaving Brown Shoe front and center, hearts in hands, offering a stunning preview of what can be expected from their live show while on tour.
Photo: Arrica Rose