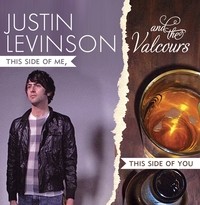 Justin Levinson and the Valcours celebrate their latest release, "This Side of Me, This Side of You, with a collection of heartbreak songs that are executed with wit and laughter through the tears.
Now don't be too sad Justin, there are plenty of girls out there who think a good sense of humor is sexy. This is a 10 track CD with up tempo, bouncy beats that keep your toes tapping and a grin from ear to ear, sure to make you fall in love. It worked for me, I'm happy! Justin has an interesting way of wearing his heart on his sleeve, without skimping on the entertainment.
He describes in some details that love is a force of nature and never comes without rewards or heartaches. But the heartaches are so worth the rewards so don't be so down on love. After all, who could be anyway after listening to this collection. If you started in a bad mood I do not think you could stay that way for very long. There is a challenge for you, get this CD and I dare you not to smile.  
He has a quirky way about him. The songs are hooky and delightful. Strong lyrical content lifted by the Valcours who are heating up your speakers with depth. From springy melodies and adaptable sounds I've never seen more surreal content displayed in such a vibrant way.
Justin Levinson and the Valcours are a workforce purging happiness in your life whether you want it or not. But with all the doom and gloom in the world these days, I'd say, "This Side of Me, This Side of You" is a welcoming change.
By: Rebecca Hosking – hoskingrebecca@gmail.com
[Rating: 4/5]