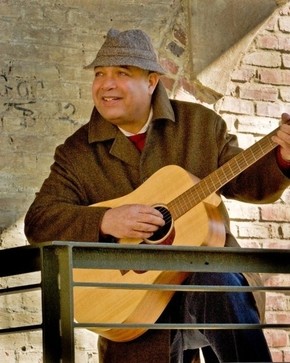 Billy Ray Deiz has a long history with music and showbiz, having been a founding member of Los Angeles cult favourites The Seven Souls (who Fleetwood Mac's Bob Welch also played for), and also serving as a popular radio and television personality in Los Angeles, San Francisco and Portland. Now he makes music on his own terms, and with a positive, open attitude. Not to be daunted by the ever-changing of the digital music landscape, Billy Ray has been using technology to his advantage; recording tracks and sending them out to have top notch session musicians lend their talents to them, publishing with BMI, signing with Australia's Blue Pie Records, releasing singles and promoting them via iTunes, and also embracing the possibilities for licensing.
Billy Ray's latest release is the 10-track disc "The Nashville Tracks", which was released through Blue Pie Records and can be purchased on iTunes. I was able to ask Billy Ray some questions about everything from the motivations behind this release to his views on the music industry. His answers proved to be motivating and revealing, showing that a positive attitude mixed with talent can take you a long way.
What inspired you to follow the musical path?
I've always been musical but my desire to perform really started in my teens when we went back to New York City to visit family one summer while I was in high school.   My cousins took me to the Apollo Theatre in Harlem where we saw Frankie Lyman perform "Goodie Goodie", and the Champs perform "Tequilla" and the crowd went crazy.  
On that same trip my uncles gave me my first guitar, acoustic, and taught me how to play a few songs including La Bamba —although their version was different from Richie Valens'.   I sat in the back of the plane and played that guitar all the way back to Portland.   That same summer I started teaching myself Buddy Holly songs on the guitar and singing them to friends —and I was good at it!  
From there is was a natural progression into high school and college bands until —during the summer of 1965–our band The Seven Souls became the toast of Los Angeles.   That summer we landed a record deal with a Warner Brothers subsidiary, the same label as Ike and Tina Turner, we landed the Righteous Brother's agent as our agent, and our manager was Larry Shayne who was also Henry Mancini's music publisher–with an office in the Sunset and Vine tower, and who arranged for us to record songs by the legendary song writing team of Livingston and Evans at Goldstar studio in Hollywood.   We scored a beach pad in Malibu and were on our way–but the Vietnam War escalated and some of us were called to serve our country —including me!   However, Bob Welch went directly from our band to fame with Fleetwood Mac!
Music has taken you to some interesting places. You've even sung back up on a Leonard Cohen recording. What would you say are your personal high points?
Well, back before there even was MTV, I came up with the idea to do a segment on the KCBS TV News in Los Angeles that profiled key figures in the music industry, gave our viewers a behind the scenes look at folks creating music:   in the recording studio, at their home pianos, on stage at the Beverly Hills Hotel.   I profiled folks like Neil Diamond, Helen Reddy, Loretta Lynn, The Supremes, The Temptations, Ray Charles, even Roy Rogers!   One time I interviewed Phil Spector at his mansion and later, when he invited me to a Leonard Cohen recording session, (For his album Death of a Lady's man), I ended up singing background with Bob Dylan and the poet Alan Ginsberg!
I'm best known now for my career as a TV news reporter and news anchor in Los Angeles, San Francisco and Portland but I never stopped writing songs and playing with groups, large and small.   I think my best times are yet to come, musically!
What are your thoughts on the current evolution the music industry is going through?
I look at the Internet, at the Cloud, and think:   this is a great time to be a musician!   Many folks don't realize that the digital revolution means that you can record a track in Portland; send it digitally to a studio in Nashville or Los Angeles, and have some of the best musicians in the world, some of the best session musicians, playing on your record!   One reason my songs are getting noticed right now is that I've got some great music on my tracks, folks like George Marinelli who is the guitar player in the Bonnie Raitt band.   Or Britt Savage of Star Search fame who sings background on two of my songs.   We link up with the producer, in this instance, Clifford Goldmacher,   via Skype and it's like I'm in Nashville recording right there with them.   On my latest single, MIGHTY GIRL, I've got one of Portland's hottest guitarists, Kevin Hahn, playing, with a mix of some of Nashville's finest.
[youtube TAtc0Gd5ygg nolink]
Thanks to BMI —I'm a BMI published songwriter–I found out about this and I'm in music heaven.   If you do it right, it's also affordable.
And then there's iTunes.   Thanks to CD Baby it is easy for any artist to get his recording distributed to iTunes and Amazon.com and other retailers.   You also have to promote, but the opportunity is there to showcase your music.   You can also create a website and figure ways to drive traffic to it.
I've also been lucky enough to sign on with a label, Blue Pie Records out of Australia, to do digital distribution of my 10-song CD THE NASHVILLE TRACKS.   It is also our aim that some of the tracks are strong enough for placement in TV shows and in films, and Blue Pie is pushing these songs to these folks as well.
Please tell us about the inspiration behind "The Nashville Tracks"?
Well I mentioned that thanks to BMI I connected with record producer Clifford Goldmacher.   He has a studio in Nashville and he arranges for some great musicians to play on your tracks at what I consider very reasonable rates for demos.   His idea is that in order for the music industry to really hear your song, it has to sound as professional as the tracks from the major artists.   And he has truly helped me.   In fact, as a singer, when you sing to a bed with the music played like it should be, it inspires you to perform at a higher level.   It's all good!  
So we ended up recording a number of tracks in Nashville and I realized I had the foundation for a full-length CD when I combine it with some of the other songs I've recorded over the years.   I also did two country -flavored tracks, Carolina Blue and Poppa Knows, with another producer, who plays with the band KingBilly, that were produced in Nashville.   People who buy the CD say they love the range from rock to country to soul on the album–it kind of reflects my own musical journey all these years.
Who in music today do you most admire and why?
Of course I love what Susan Boyles has done and how beautiful her voice is and how she now has gold records because she followed her dreams and never quit!   I also love Adele's voice and will probably work up versions of some of her songs.   I am a huge Bonnie Raitt fan…her musicianship, her respect for her gift; I would love to sing a duet with her some day.   Other musicians I truly admire include Carlos Santana, I love his sound!   In the past there's Steve Winwood, Aretha, Ray Charles, Barbra Streisand, people who can sing!
Listen & Buy: http://snowymountainboys.com/music/
What is the most gratifying part of creating music in your opinion?
For me at my rather advanced age it is hearing something in your head, getting it to some of the finest musicians in the world and having them make it sound even BETTER than what you heard in your head.   For years, before the Internet age, I could never get a recording; well not never, but rarely, that sounded the way I wanted it to.   Over the past two years, everything I've done ends up sounding the way I want it to.   It takes work.   It takes craftsmanship; but I love hearing other people get inspired by my ideas and bringing their best (shit) to the table and knocking themselves out.   For example, listen to the great drum/percussion/and bass work on MIGHTY GIRL at the transition from the vocal part to the instrumental extro at the end of the song.   It is evocative of Steve Winwood.
What advice do you have for aspiring musicians?
Don't quit.   Follow your dreams.   Getting better at your craft.   Remember it is a craft and the more you put into it the better you will be.   I am singing better now than I did 20 years ago and it's because I've put in a lot of work to get to this point, and I still have a ways to go.   Also:   this is what I tell my kids:   Keep your day job!   Unless music is at the point where you can let go, keep a funding source under you.   You'll know when it is time to quit.   Our eldest son, Brendan, has a great band in Los Angeles–The Anchorbabies.   They've already performed at the Roxie.   But he also has his Master's in Teaching from USC.   And he is a high school teacher in the day, and he plays music at night.   Some day he may have a few hit records.   Meantime, he can support himself and his dreams.
What can we look forward to in the future from you musically? Are you planning to work on new material or music videos in 2012?
Well now that I have my Nashville connection I am inspired to keep writing songs and producing records.   I also have a lot of material that hasn't been recorded properly yet that I am anxious to get finished.   It's funny, I have yet to make any real money from my music but it is something that is inside me and I like exploring new themes and ideas.   I may not be the best singer in the world, but I love making records, and performing at a high level with great musicians.   I love writing songs and having people push "like" on JANGO and tell me that they are a fan!
By James Moore – james@independentmusicpromotions.com