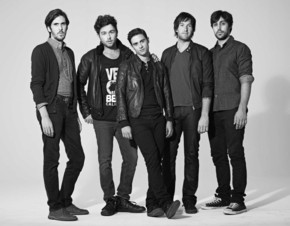 Acclaimed alternative rock band Arkells are proud to announce the international release of MICHIGAN LEFT, the follow up to their Juno award-winning debut. Set for an April 10th release, MICHIGAN LEFT is an undeniable collection of songs that combine the bombast of Bruce Springsteen, the melodies and warmth of Fleetwood Mac and the delicate studio touches of Spoon.

"Kiss Cam" MP3 Download link: http://goo.gl/qqQNa
 
After touring in support of their debut JACKSON SQUARE, which scored the band a Top 10 Radio Hit and saw them share the stage with Pearl Jam, Tokyo Police Club, Them Crooked Vultures and Metric, Arkells retreated to Bathouse Studios on the shores of rural Lake Ontario to record their new album. Looking to capture their energetic live performance without compromise, the band was able to combine the spontaneity of live-off-the-floor recordings, with more complex sonic details reminiscent of past studio albums by Phoenix and Hall & Oates.  
[youtube ro0m9nHOl0Y nolink]