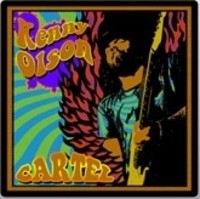 Kenny is best known for fronting Kid Rock's Twisted Brown Trucker band for 11 years, and playing with the Experience Hendrix ensemble (he has always sported a Jimi tattoo).   During the duration, he has played with and contributed to numerous varying artist collaborations, in addition to forming The Flask, Motorflys, and 7-Day Binge.   For this release, Kenny enlisted the help of an ensemble cast including John Nicholson, Paris DeLane, Brandon Calhoon, Emanuel Cole, Hugo Ferreira, Shannon Boone Hurcomb, and Hendrix bassist Billy Cox.  
The release of course features Kenny's blistering guitar passages, but the support group is tight.   Loaded is old school rock, and the distortion riffs on the single Up All Night continue, setting the pace.   Phoenix Will Rise is a ballad with Kenny handling the vocals, and is basically a statement to where he's headed.   Can't Feel is another ballad, this one with some vocal edge and mellow licks.   Water is a blues/rock tune with some gruff vocals & spooky guitar (was Tom Waits hanging around the studio?).   Away We Go features Donavan McCrary doing some fast rap while the guitar puts the pedal to the metal, unique, cool!
The instrumental Psychedelic Lap Dance is sultry guitar piece, equally suited for a Quentin Tarantino movie.   2Be Or Not 2Be in spite of the bassy vocals, reminds me of something in a dark closet that Chris Isaak would explore.  
You'll find some clever guitar work, not just shredding here.   A touch of keys and B3 is all you need.   There are some neat effects, including some car/bike and over spoken bits.   The band will be touring this year in support of the CD.   If you're thinking of checking them out, Kenny is always a highlight anywhere he plays.   He has that Old School mentality towards his strings, and can blast with the best of them.   I've seen him a ton of times, and believe me, he never disappoints!  
By RM Engelman
[Rating: 3/5]