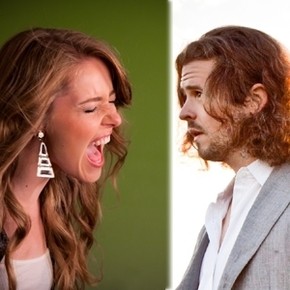 San Francisco-based singer-songwriters Jeff Campbell and Megan Slankard have a unique way of going on tour. First of all, they are musicians with separate sets and separate albums (though they are known to accompany each other on stage), but they are also a couple. What's it like to tour with a significant other?
"Our apartment is our car for two months," Megan Slankard says, "so if you like personal space, there's none of that. But I like it because I can share these experiences with someone I love. It's corny, but it's true."
Jeff Campbell says, "Megan's my best friend. I like hanging out with her, and I love playing music with her."
Secondly, they cut down the touring cost by sleeping on strangers' couches. Campbell says, "Usually they're like 'Wow, you guys were great. Your music was awesome!' and we're like 'Thanks! Can we sleep on your couch?'"
"It's a great networking strategy for independent musicians," says Slankard. "In
Florida, we met a woman, and after playing ultimate Frisbee with her and her friends all day, she brought her friends to the show."
Lastly, they bring their 13-and-a-half-year-old dog on tour with them. "It really, really gets in the way sometimes, but it's worth it," says Campbell.
Slankard says, "Yeah, he gets mad if we don't include him."
iTunes: http://itunes.apple.com/us/podcast/hot-sauce/id475911269
MP3: http://traffic.libsyn.com/plainketchup/meganjeff_final.mp3
Megan Slankard: http://meganslankard.com/
Jeff Campbell: http://jeffcampbellmusic.com/
Listen to the whole interview on iTunes or Libsyn (26 minutes). New episode every Monday. http://PlainKetchupPodcast.com features audio and video podcasts with professionals from all walks of the arts and entertainment industry.
By: Plain Ketchup — jaimeandlindsey@gmail.com